Marine Scotland Blog

Scottish Government Blog
Updated: 1 hour 54 min ago
Measures to protect spawning cod in the Firth of Clyde for the past 20 years will continue in 2022 and 2023, through the seasonal closure (between 14 February and 30 April) of the area to fishers.
Since its introduction, the Scottish Statutory Instrument (SSI) for the annual closure of the spawning ground has included exemptions to allow Nephrops trawlers, creels and scallop dredgers to continue to use the area, due to the low numbers of cod that they catch. However, despite the ongoing seasonal closure, the stock has shown little sign of recovery so the Scottish Government has removed these exemptions to maximise numbers.
During spawning, cod are extremely vulnerable to any activity impacting the seabed as fish are very territorial and unwilling to leave their mating areas (leks) and, as a result, are less likely to try and evade oncoming fishing gear. In addition, limiting physical disturbance during the spawning period will minimise disruption to the spawning environment and harness cod reproduction.
Removal of the exemptions will also create consistency with management in other areas, including the UK National North Sea Cod Avoidance Plan, which covers closure areas for all gear types (excluding pelagic), and the recent emergency Marine Protected Area (MPA) designation in the Inner Sound and related Marine Conservation Order, which includes prohibition on creeling and diving in order to protect the critically endangered flapper skate nursery area.
This represents a change to our previous position – for sound environmental and biodiversity reasons. It will have a short-term impact on local fishers given that the full closure of the fishery is for 11 weeks, but by taking action now, we hope to see the stock replenish which will ultimately be beneficial for fishing interests.
This change to the seasonal closure aligns with the commitments in the policy programme of the Bute House Agreement between the Scottish Government and the Scottish Greens and our shared aim to restore marine habitats in Scotland's inshore waters. We believe that this measure will provide a higher chance of stock recovery and contribute to a more sustainable fishery in the West of Scotland in the medium-longer term.
The post Seasonal Clyde Cod Spawning Closure (14 February – 30 April) includes new measures to strengthen stock recovery appeared first on Marine Scotland.
UK-EU negotiations have now concluded, with agreement on key shared stocks in the North Sea and West of Scotland sea basins, as well as other coastal waters around the UK. Among the stocks covered by this agreement are North Sea and West of Scotland nephrops, hake, monkfish and ling, as well as Rockall haddock and cod and West of Scotland whiting and cod.
Negotiations took place over November and early December 2021 and were positive and constructive in nature. Both parties acknowledged the importance of responsible and sustainable management of the stocks under discussion and the need to achieve agreement before the end of the calendar year to give certainty to fishermen for 2022.
The Written Record (WR), which will be published in January 2022 sets out Total Allowable Catches (TACs) and related management measures for stocks of key importance to the Scottish industry, including monkfish, hake and ling.
A full list of stocks will be available on the Written Record. The estimated value of these stocks to Scotland is £148m.
The jointly-managed TACs in the WR have been set at sustainable levels, taking into account advice from the International Committee for the Exploration of the Seas (ICES). In some cases, a TAC restraint has been applied to manage the large increases and decreases found in the scientific advice (which could negatively impact the industry and the markets). Where it has been applied, this incremental approach moves stocks closer to Maximum Sustainable Yield (MSY) while avoiding significant fluctuations in TACs which would be economically damaging.
Rural Affairs Secretary Mairi Gougeon said:
"As part of these negotiations, we have put on record the importance of ongoing dialogue between the UK and EU on a number of issues, including quota transfers and technical measures. The Specialised Committee on Fisheries (SCF) is the forum for such discussions, and it is expected that a number of meetings of the SCF will take place in 2022. The Scottish Government remains committed to close engagement with the EU, and will look to be a proactive participant in any such discussions."
The post Bilateral agreement on fish stocks reached between EU and UK appeared first on Marine Scotland.
Businesses planning to export fishery and aquaculture products for human consumption to the European Union (EU) and Northern Ireland (NI) now have less than a month to go before new requirements come into force from 15 January 2022.
New export health certificates (EHCs) will be required alongside products to confirm that certain conditions, health standards and regulations for the designated country have been met. This change is as a result of updates to EU animal health law and UK's status as a third country following EU Exit.
In addition, there is a requirement for certain products – such as farmed salmon and trout intended for further processing and farmed live bivalve molluscs – to have the EHC certified by an Official Vet (OV) rather than a Food Competent Certifying Officer (FCCO). A list of products requiring OV certification can be found in the UK Government's Notes for Guidance:
Guidance on live fish, crustaceans and products of animal origin from these animals
Guidance on live bivalve molluscs, echinoderms, tunicates and marine gastropods, and products from these animals
Food Standards Scotland Official Vets and FCCOs can be accessed through export logistics hubs operated in central Scotland by DFDS, Mesguen and O'Tooles. Exporters who are unable to use, or choose not to use, one of the existing logistics hubs will still be able to request a signed EHC from their own Local Authority. Further information on the export hubs can be found on the Food Standards Scotland website.
Exporters who will need to use the new EHCs are recommended to familiarise themselves with the requirements needed, and can find the information available on EHC Online alongside notes for guidance. Further advice is also available on the UK Government published Export Health Certificates FAQ.
Scottish live aquatic animal exporters should also be aware that live fish and shellfish (unless for direct human consumption) going to the EU and NI must use new animal health certificates (AHCs) from 15 January 2022.
This includes an additional export step for the arrangement of an OV to issue the AHC, and new requirements that exporters must implement (regular vet visits and labelling of consignments). Visit the Fish Health Inspectorate (FHI) trader webpage for more information.
For any specific queries please contact traders@defra.gov.uk.
The post Less than one month to go until new export requirements! appeared first on Marine Scotland.
Marine Research Vessel (MRV) Scotia's annual survey monitoring and sampling in the North Sea and the Faroe-Shetland Channel (FSC), has ended just in time for Christmas.
Every year, at around the same time, scientists from Marine Scotland survey the FSC and measure the composition of the water, and the pattern and rate of circulation of huge quantities of seawater. Scientists started these time-series in 1893, which makes this one of the longest time-series of ocean properties globally.
The measurements gathered during this work are part of monitoring the global ocean circulation, and linked to climate change. The ocean plays an important role in the Earth's climate, and has absorbed around 90% of the extra heat trapped by greenhouse gas emissions from human activities. The conditions in the ocean are important for setting the productivity of Scotland's ecosystems, which in turn support our economy, for example fisheries. This contributes to the National Performance Framework's environmental outcome which sets out the vision for people in Scotland to value, enjoy, protect and enhance our environment.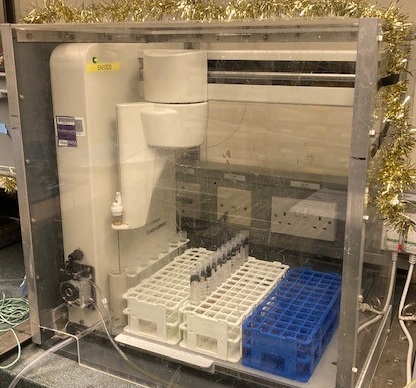 The FSC is important in the global ocean circulation.  Warm salty Atlantic water flows north in the surface layers towards the Arctic (and exchange of heat with the overlying atmosphere keeps us warm on the way) and cold less salty water flows south at depths below around 800 metres. The FSC is one of three regions where this exchange between the Arctic and Atlantic ocean basins happens.  Based on the monitoring programme, scientists calculate the volume of Atlantic water, as well as the amount of heat and salt it carries.
This work contributes a small piece to the global ocean transport system puzzle. Scientists can follow water from further south, through the FSC and into the Greenland, Iceland, and Norwegian Seas.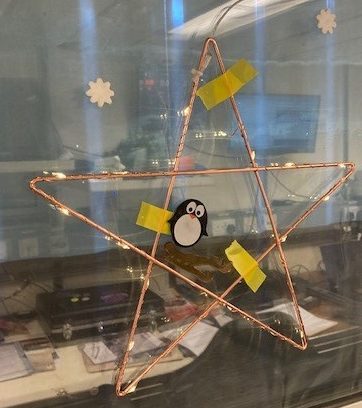 The data feed into international data centres and on-going international projects, and provide continuous monitoring of ocean processes that are key to Scotland's marine environment.
Sampling is carried out at over 70 stations, and covers a range of properties of the ocean including temperature, salinity (saltiness), dissolved inorganic carbon (the collection of bicarbonate, carbonate ions, and dissolved carbon dioxide), dissolved oxygen, and nutrients to, for example, characterise different water masses. During this particular survey,  scientists collaborated with colleagues from Heriot-Watt University to investigate the occurrence of oil degrading bacteria in these remote waters.
Colleagues on the ship have had to adapt to current Covid restrictions and take care to work Covid-safely. However, they marked the last survey before the festive period with Christmas decorations, Christmassy biscuits, gingerbread and many festive chocolates.
Further information:
The post Annual monitoring and sampling with Scotia appeared first on Marine Scotland.
Agreed records on both access and quota exchanges of fish stocks between Norway and the UK in 2022 have been signed, following consultations between both nations in recent weeks. Norway is a key partner for us in the North Sea basin, and this agreement has been welcomed by both sides.
The deal includes reciprocal access for demersal stocks. This will allow Scottish fishermen to fish their quota in Norwegian waters, giving them access to high market value haddock throughout the year. Reciprocal access is capped at 30,000 tonnes. This represents a positive step change from 2021, where no such agreement existed.
There is also a pelagic access arrangement covering North Sea herring and Atlanto-Scandian herring. The UK will receive 17,000 tonnes of Atlanto-Scandian herring access in Norwegian waters, in return for allowing fishing access for Norway in UK waters for the same tonnage of North Sea Herring.
On exchanges, the UK will receive additional quota for a number of key demersal stocks. The package for the UK is estimated to be worth £5.23 million and includes inward transfers of whiting, monkfish and hake. In return, Norway will receive additional quota for demersal stocks including Greenland halibut, ling and tusk. This exchange helps to mitigate the challenging scientific advice for many demersal stocks this year, while still keeping fishing activity as a whole within sustainable levels.
This package provides additional opportunities and flexibility for Scottish industry, and is a reflection on the strong and enduring relationship between the UK and Norway.
The post Outcome of UK and Norway bilateral consultations appeared first on Marine Scotland.
The trilateral fisheries negotiations between UK, the EU and Norway have concluded with quotas agreed for a number of shared stocks.
The record which was agreed on 10 December 2021 sets out Total Allowable Catch (TAC) positions and management measures for the following North Sea stocks: cod, haddock, saithe, whiting, plaice and herring.
There are increases for haddock, herring and whiting in 2022. A decrease in saithe will present challenges throughout the year for Scottish fishermen in securing quota opportunities. A rollover TAC for cod has been agreed – a sensible yet rightly cautious management decision which represents a sustainable balance between scientific and socio-economic considerations taking into account the best and most up-to-date evidence and data.
The Scottish Government negotiating team has played a full role in getting to this agreement, from scenario-planning and background analysis to deploying subject matter knowledge and expertise during the negotiations.
The value to Scotland of the negotiation is £97.02 million, which is an increase of £9.23 million from last year. The TAC changes are as follows:
Whiting +25.0%
Plaice: –12.4%
Saithe: –24.5%
Cod: Rollover
Haddock: +5.0%
Herring: +20.0%
Negotiations continue in the coming days with bilaterals with EU, Faroe and Norway.
The post Trilateral fisheries negotiations conclude appeared first on Marine Scotland.
There is one week left to take part in our survey to help us understand how ready the Scottish fishing sector is to respond to the climate change challenge.
The survey launched during COP26 and runs until 30 November 2021. It is open to everyone with an interest in Scottish fisheries. So far we have received responses from a wide range of stakeholders representing the catching sector, processing and retail, environmental NGOs, regional groups and individual vessel owners.
The survey covers topics including emissions, alternative fuels, fishing gear and methods, blue carbon and asks the industry for information on climate change impacts it is already seeing and adaptions currently being made.
Responses to the survey will inform a workshop on climate change and fisheries which we will hold next year. This will help us to map out how we can support the Scottish fishing industry to respond to the climate crisis and move towards net zero. The approach is part of Scotland's Fisheries Management Strategy which was published last year. Developed in partnership with key stakeholders, it is our action plan to support Scotland's ambition to be a world class fishing nation and ensure responsible and sustainable fisheries management.
Commenting on the survey, Cabinet Secretary for Rural Affairs and Islands Mairi Gougeon said:
Scotland's fishing industry finds itself on the front line of climate change and facing serious challenges. We need to take action now to ensure that a sustainable fishing industry can survive into the future.
The Scottish Government is committed to working with the fishing sector to respond to the climate emergency and to ensure a just transition. This survey will help us to inform our future work on climate change mitigation and adaptation. I encourage everyone with an interest in Scottish fisheries to engage with this survey.
Find out more and take part in the survey.
The post Last chance to take part in our fisheries and climate change survey appeared first on Marine Scotland.
New entrants to fishing have been able to apply for Scottish Government funding towards the purchase of a second hand fishing vessel.
To coincide with World Fisheries Day we are putting three young fishermen in the spotlight who have each benefitted from a £50,000 grant from the £14 million Marine Fund Scotland to help buy fishing boats.
Part of a drive to encourage new entrants under the age of 40 into the industry, the 'new entrants scheme' enables young fishers to apply for up to 75% of the cost of buying a second-hand vessel of up to 16 metre or up to 50% of the cost of a vessel from 16-24 metre. All awards are capped at a maximum award of £100,000 to ensure affordability.
One of the young fishermen is Daniel Watson, 26, of Integrity Shellfish. He has been fishing for three and a half years and used the grant to purchase his own vessel. Daniel fishes for brown crab, velvet crab, prawns and lobster from Ullapool and sells his catch in Mallaig.
Daniel said:
"I am grateful for the support from the Scottish Government, which has helped me take the next step with my business and expand our fishing operation in Scotland.
"Without this funding, I quite simply would not have a boat of this size to support our aspirations.
"The week it arrived was particularly special as it was also the week my daughter was born. I'd like to thank my amazing partner Katie for her support and while our new-born is not quite ready to join the crew yet, who knows what the future holds!"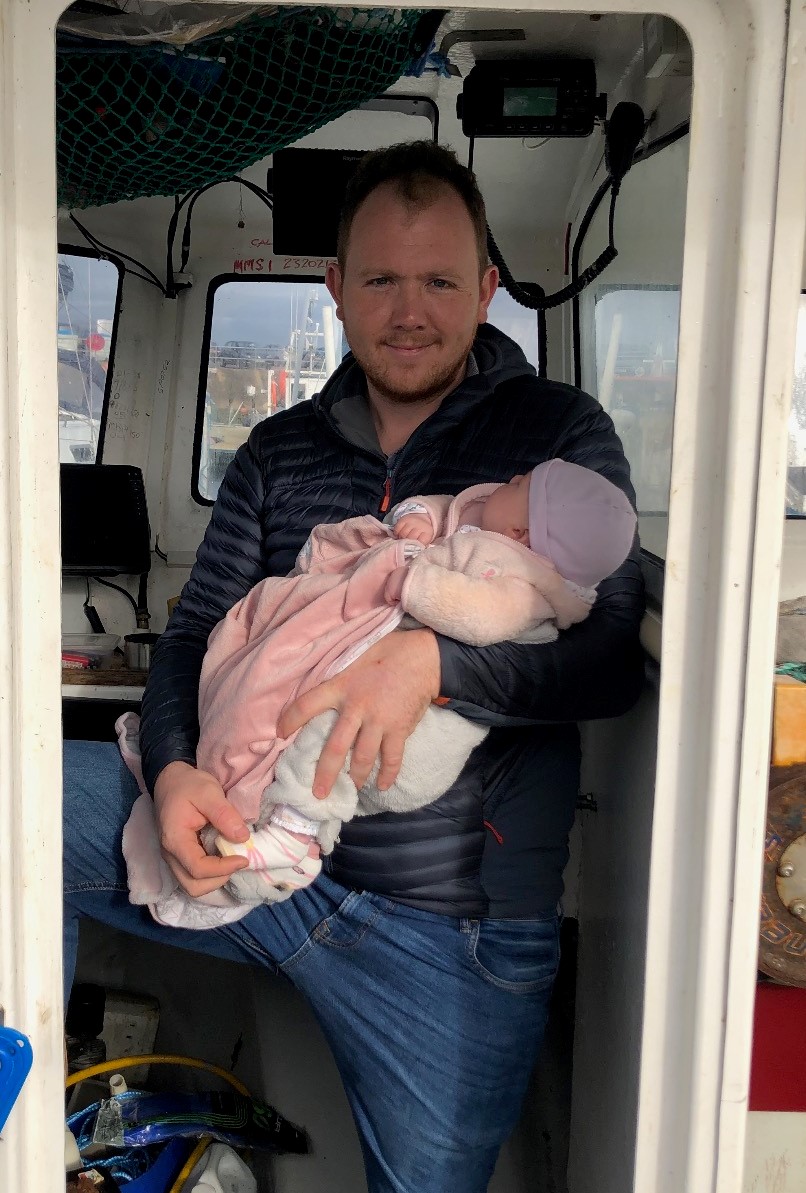 The other awards were made to John Anderson, 26, and Steven Mair, 32, who both purchased a third share in a 18m trawler, with the other third purchased by LHD fishing agents in Shetland. The 'Sharyn Louise' boat fishes from Lerwick.
John said:
"Without the grant from Marine Fund Scotland, I simply would not have been able to raise enough money to purchase my share in Sharyn Louise LK250.
"The grant has allowed me to secure my job and achieve my ambition of owning and skippering a whitefish boat. Now that I have managed to overcome the financial difficulties of getting into the industry, I look forward to making a career out of fishing which will allow me to bring up my family here in Shetland."
Rural Affairs Secretary Mairi Gougeon said:
"It's fantastic to see this funding helping to attract young talent to a sector which has struggled in the past due to perceived lack of career progression opportunities.
"These new entrants are crucial to boosting the resilience of the industry which supports jobs in some of our most rural communities.
"By supporting up and coming fishers to become a skipper or to own their boat I hope it will help inspire young people to enter and progress through the fishing industry. This is an important part of our Fisheries Management Strategy, which includes actions to promote fishing as an attractive and safe career of choice."
Background
Further information on eligibility for the young fishers scheme can be found on page 10 of the Marine Fund Scotland general guidance on the Scottish Government website. The list of successful awards granted through Marine Fund Scotland so far this year is also available to view.
Read more about the Future Fisheries Management Strategy.
The post Trio of young fishers receive funding boost appeared first on Marine Scotland.
The annual meeting of the North-East Atlantic Fisheries Commission (NEAFC) took place 9-12 November, with parties agreeing a number of proposals which aim to ensure the conservation and optimum utilisation of fishery resources in the NEAFC Regulatory Area.
The annual meeting was advised and informed by a number of Permanent Committees, which include Monitoring and Compliance (PECMAC) and Management and Science (PECMAS).
Key outcomes of the annual meeting included a rollover of the existing closure of the Rockall haddock box, a measure which protects juvenile haddock in the area. This closure has been in place for a number of years, and the UK worked together with the EU to propose a rollover of the measure into 2022, which was agreed by consensus.
Measures were also adopted for mackerel, blue whiting and Atlanto-Scandian herring (ASH) in the NEAFC Regulatory Area (international waters) in 2022, mirroring the outcomes of the Coastal States consultations which took place last month and allowing Contracting Parties to fish in the NEAFC regulatory area. A zero catch limit for Irminger Sea redfish in 2022 was also adopted, in line with advice from the International Council for the Exploration of the Sea (ICES).
Parties also agreed to adopt a number of control and enforcement measures in the Regulatory Area, as recommended by the control sub-group (PECMAC), and Cooperating Non-Contracting Party (CNCP) status was renewed for 2022 for Canada, the Bahamas, and Panama. Other measures adopted included an update to the list of fish stocks for which NEAFC requests and pays for advice from ICES.
Measures currently in place at NEAFC can be viewed on the NEAFC website. The Contracting Parties to NEAFC are: the United Kingdom; Denmark (in respect of the Faroe Islands and Greenland); European Union; Iceland; Norway; Russian Federation.
Further information:
The post Outcome of the 2021 annual meeting of the North-East Atlantic Fisheries Commission appeared first on Marine Scotland.
Cabinet Secretary for Rural Affairs and Islands Mairi Gougeon made opening remarks at an international Blue Carbon Conference held in Edinburgh on 11 November. In her speech she announced the Blue Carbon International Policy Challenge, which will provide funding for up to five projects in 2022. 
Welcome
As COP26 draws to a close, it feels fitting that we turn our attention from what is above us in the air and below us in the land, to what lies beneath us in our seas and oceans.
I am particularly pleased that in two firsts, this international blue carbon conference is being held at the same time as the UN climate conference, hosted by Scotland.
I know many of you have advocated tirelessly through your work for the ocean to be included in UN level climate discussions. It has been encouraging, during COP26, to see increased attention paid to the role of the ocean in climate change mitigation and adaptation and to hear of new commitments for ocean protection, for finance and investment, and for international partnerships. This conference taking place today and tomorrow is a further sign that you are winning the argument.
We are proud of the role that Scotland is playing on the world stage in leading on climate ambition and in ensuring that how we adapt to climate change and mitigate its impacts is founded on science and an evidence based approach.
We have a long marine and maritime heritage in this regard – we have been involved in monitoring the oceans for well over 100 years; a Canadian-Scot is considered to be the father of modern oceanography; the first marine laboratory in the UK was established here in Edinburgh; and it was a Scot who first circumnavigated Antarctica.
The wealth of resource that lives in our seas has long fascinated us and that heritage is reflected in the range of marine related subjects taught and researched at our universities and research institutes today.
I am particularly pleased that today's conference is being attended by people from all over the world. We all know that climate change is a global issue that requires a global effort to tackle it. No one country can do this alone
It also needs collaboration, which is why this conference is so important and timely. The UN Decades on Ecosystem Restoration and on Ocean Science for Sustainable Development, running from 2021 to 2030, provide impetus and opportunity to come together, learn from each other and advance our knowledge on how we might act to address the twin crises of climate change and biodiversity loss.
Scottish Blue Carbon Forum
The work of the Scottish Blue Carbon forum is a key example of what can be achieved together.
The Forum has supported the development of the evidence base for a better understanding of blue carbon in Scotland and the building of our science capacity in this field. It has ensured that we are also investing in the next generation of experts through a cohort of early career researchers, many of whom are here today and are responsible for the infographics on show.
The Forum has helped Scotland play a leading role on the blue carbon stage – delivering significant contributions to our understanding of blue carbon habitats in Scotland and in the UK.
I'm proud that the Forum's map of resources was the first of its kind for the UK, highlighting the significance of saltmarsh and seagrass in Scotland for trapping and storing carbon, as well as its climate adaptation potential as sea levels continue to rise.
It is also helping us to better understand the human and environmental factors that impact the ability of the ocean to capture and store carbon.
To everyone who has been involved since Scotland's Blue Carbon Forum was founded in 2018 – thank you. Your work has never been more vital, more necessary or more urgent.
And that is why, we have committed £150,000 to support the establishment of specialist blue carbon research in Scotland through the Nature Restoration Fund, so your work can continue and also to grow.
We have made clear too our policy commitment to the health and wellbeing of the seas around Scotland.
Through our shared policy programme with the Scottish Greens, we have set out our vision for Scotland's marine environment.
It should be clean, healthy, safe, productive and diverse, and managed to meet the long term needs of nature and people.
In this Parliament, we will make a step change in marine protection. 37% of our seas are already designated as marine protected areas and we will designate at least 10% as highly protected marine areas by 2026.
Protecting blue carbon will be one of the criteria for selecting sites for these HMPAs and clearly the mapping work the forum has done will be vital to help us deliver this commitment.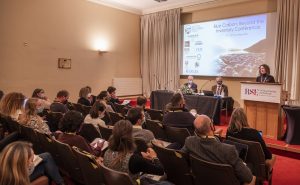 Importance of the Ocean in climate change
You of all people don't need me to tell of the vital role oceans have to play as carbon stores – in Scotland we estimate that our seas store as much carbon as all our land sources. The same will be true of other countries – and through your work in your own countries and collaboratively, we are all beginning to realise the potential that seas and oceans have to help solve our climate and nature crises.
But we must not forget the harm that is being done to marine and coastal habitats by human behaviour, which undermine the ability of the ocean to take and store carbon.
Crucially, we are seeing more countries realise this by including marine nature based solutions in their Nationally Determined Contributions and making commitments to conserve, manage and restore their coastal wetlands.
Scotland's indicative Nationally Determined Contribution, published in July, includes blue carbon and through the research of the Scottish Blue Carbon Forum and work across the UK, we are building the evidence base so that saltmarsh and seagrass can be included in the UK Greenhouse Gas inventory. This will be a step change in how blue carbon is viewed and critical to attract future investment and in driving restoration.
International Partnership for Blue Carbon (IPBC)
International collaboration is key to our future success. In fact the interconnectedness and interdependency of the ocean habitat is a great symbol of the need to work together.
This is why I was so pleased to accept the invitation for the Scottish Blue Carbon Forum to join the International Partnership for Blue Carbon or 'the IPBC' as its 50th member at an event at the Australia Pavilion on Nature Day of COP26.
International and multi-disciplinary partnerships like the IPBC are vital in harnessing the international effort to understand blue carbon habitats, to drive global commitment and improve policies to protect and restore blue carbon habitats.
The IPBC will help us all exchange and benefit from global experience and expertise on research and policy. But knowledge exchange can only ever be one part of the equation – we also need to use research to identify and create solutions and critically, to take action to put those solutions into effect.
Blue Carbon International Policy Challenge
This Scottish Government, in which I am honoured to lead on the blue economy, is wholly committed to this work.
So I can announce today a new initiative – the Blue Carbon International Policy Challenge. It will be led by the Scottish Blue Carbon Forum and provide seed funding for up to five blue carbon policy challenge projects in 2022.
These projects will seek to establish blueprints for international and domestic policy action post-COP26, building momentum to turn research findings into action on the ground which help protect and restore our seas and oceans.
Clearly, we want to ensure the Challenge will deliver actions here in Scotland but our aim is also to raise global ambition for blue carbon mitigation and adaption actions.
And we will seek to continue working collaboratively, with all of you, in particular through the IPBC, the Blue Carbon Initiative and with new UK groups – the proposed cross-UK Blue Evidence Partnership and the UK Blue Carbon Forum – to shape the development of our Blue Carbon International Policy Challenge.
We are especially keen to create opportunities for new partnerships with countries that we have not yet worked with, and who might benefit the most from collaboration – those nations perhaps with the most to lose from the impacts of climate change, not least their very existence, but without the wealth of science resource we are privileged to have here in Scotland.
Scotland has been at the front of the pack on blue carbon science, and now we want to share that for the benefit of us all.
Closing
It is clear we face a nervous couple of days as we await the final outcome of these COP26 negotiations. The Scottish Government is clear that we need bold action and commitments from world leaders and nation states. We are at a critical juncture. You see that every day in your work and in your concern for what is happening in and to our seas and oceans.
But we cannot and should not be bystanders, waiting for our fate to be handed to us.
You have shown that, by developing the science and evidence base on blue carbon, we can find solutions. Your work will ensure that our global ocean will feature more prominently on the UNFCCC's agenda.
And we are showing here in Scotland – through initiatives like the Scottish Blue Carbon Forum and now the Blue Carbon International Policy Challenge – that we can help forge our own destiny in responding to climate change and nature loss.
I hope in the next two days at this incredible and vital blue carbon conference, that you apply your enthusiasm and expertise to identifying the issues, finding the solutions and creating the momentum on blue carbon that will allow us all to ensure that the destiny for our seas and our oceans is a positive one.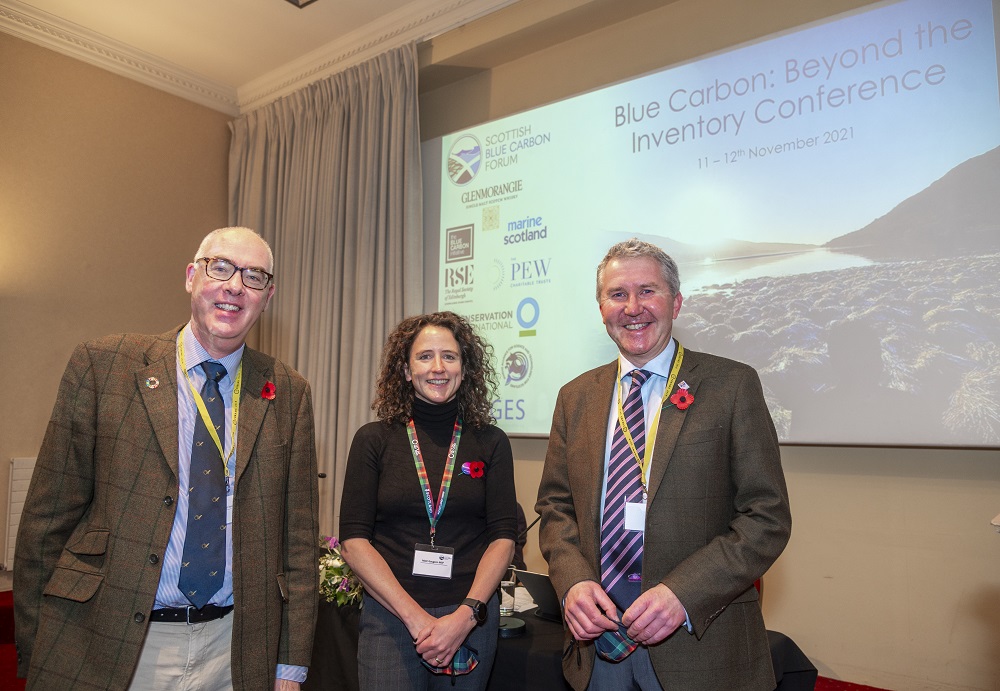 Further information
The post Cabinet Secretary announces new blue carbon initiative at international conference appeared first on Marine Scotland.
Today, 10 November 2021, the Scottish Government published its response to the Scottish Nephrops Working Group report, which it commissioned to help the nephrops (langoustine) sector identify and deal with the challenges brought on from coronavirus and Brexit.
The Scottish Government welcomed sector improvements set out by the group, including market recovery and development, improving quality, efficiency, environmental sustainability, encouraging investment and innovation, and increasing information available across the supply chain.
Cabinet Secretary for Rural Affairs and Islands, Mairi Gougeon, said:
"We look forward to supporting the recommendations for one of the most valuable stocks landed in Scotland, as part of the report's alignment to the current Programme for Government commitments to support a sustainable seafood sector and recognising the vital importance of our blue economy. The delivery of a globally recognised premium product which is sustainably sourced, and delivers a valuable economic input to a future low carbon economy is of the utmost importance to us.
"While many of the recommendations in this report will be for industry to take forward through the programme board set up by the sector, we will play our part through our involvement in the board and the remaining funding which has been awarded "through Marine Fund Scotland.
"Around £800k has been awarded for this financial term to support the delivery of many of the recommendations in this report, including training for product quality improvement, projects for reducing waste, improving supply chain quality, and wider market research and analysis.
"To parallel this important work and address the impacts of Brexit, we are developing a new strategy for seafood to help revitalise the sector in line with a sustainable and natural capital approach. Our local food strategy consultation and the development of a "Sustainably Scottish" brand will help to support and grow Scottish seafood as a premium quality sustainable low-carbon food close to home as well as internationally."
Uel Morton, Chair of the Scottish Nephrops Working Group said:
"We welcome the Government's support in building a more sustainable future for nephrops which will benefit the catching and processing sector in the years to come. The Programme Board, aided by industry experts, has appointed a new Programme Manager who has joined the Seafood Scotland team. Matthew Hurst will co-ordinate the delivery of a number of separate workstreams, and ensure continued progress towards our long term goals.
"This work will have a positive impact not only in Scotland, but across the UK and in key overseas markets too. We are committed to making the Scottish langoustine sector a watchword for quality and excellence across the globe."
The post Scottish Government welcomes improvements for langoustine sector appeared first on Marine Scotland.
Coastal States consultations have now concluded with agreement on 2022 catch limits for shared pelagic stocks.
The agreed records which were signed on 26 and 27 October 2021 set out Total Allowable Catches (TACs) and management measures for mackerel, blue whiting and Atlanto-Scandian herring, three stocks of key importance to the Scottish fishing fleet.
Together, the Coastal State pelagic stocks are estimated to be worth ~ £186 million to Scotland in 2022. For all three stocks, the TACs were set in line with advice from the International Council for the Exploration of the Sea (ICES), resulting in the following decreases compared with the catch limits set for 2021:
Mackerel -6.73%
Blue whiting -19.00%
Atlanto-Scandian herring -8.06%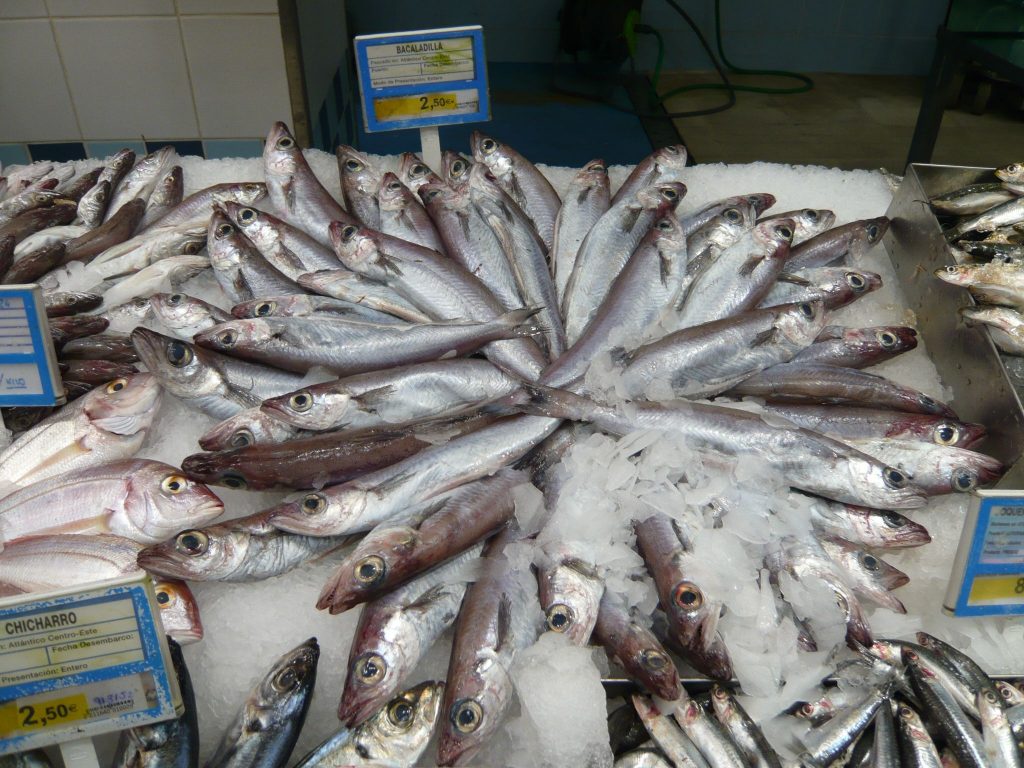 The Agreed Records also underline the importance of continuing discussions as soon as possible in 2022 to agree new comprehensive sharing arrangements for these stocks. Given the importance of these stocks, it is imperative that everything is done to ensure appropriate management. Establishing comprehensive sharing arrangements for all three Coastal State stocks is a top priority for Scotland, and officials will put full energy behind these talks to ensure the long term sustainability for the benefit of Scotland's fishers into the future.
Negotiations will continue over the coming weeks with trilateral and bilateral negotiations and Regional Fisheries Management Organisation (RFMO) meetings aiming to agree further fishing opportunities and management measures for 2022.
The Coastal States and Fishing Parties in the North East Atlantic are the UK, EU, Norway, Iceland, the Faroe Islands, Greenland and Russia.
The post Outcome of Coastal states consultation on mackerel, blue whiting and Atlanto-Scandian herring appeared first on Marine Scotland.
The Scottish Coastal Observatory (SCObs) is celebrating its 25th year of monitoring Scottish coastal seas.
Operated by the Marine Scotland directorate of the Scottish Government, SCObs samples temperature, salt content (salinity), chemistry (nutrients, ocean acidification), microscopic plants (algal pigments, phytoplankton) and animals (zooplankton) weekly around the Scottish coast.
SCObs data helps colleagues monitor and record the long term changes in our coastal waters and how these vary regionally around the Scottish coast. This is critical for us to understand how climate change is impacting our marine ecosystem and the plants and animals that live there. SCObs data provides baseline information that will help society adapt in the future to support the marine environment and the industries that depend on it. This is part of the Scottish Government's work to tackle the twin crises of climate change and biodiversity loss.
The complete SCObs dataset, along with a companion report explaining the dataset and how to use it, is available and fully searchable on the Marine Scotland Monitoring Data page. We encourage everyone with an interest in the marine environment, including professional scientists, policymakers, students and concerned citizens to use these resources to find out more about the environmental conditions around Scotland's coasts.
SCObs data also play an important role in meeting the Scottish Government's national and international monitoring and reporting obligations relating to the condition of the marine environment and they have been used in over 20 academic collaborations to further our knowledge of the coastal ecosystems around Scotland.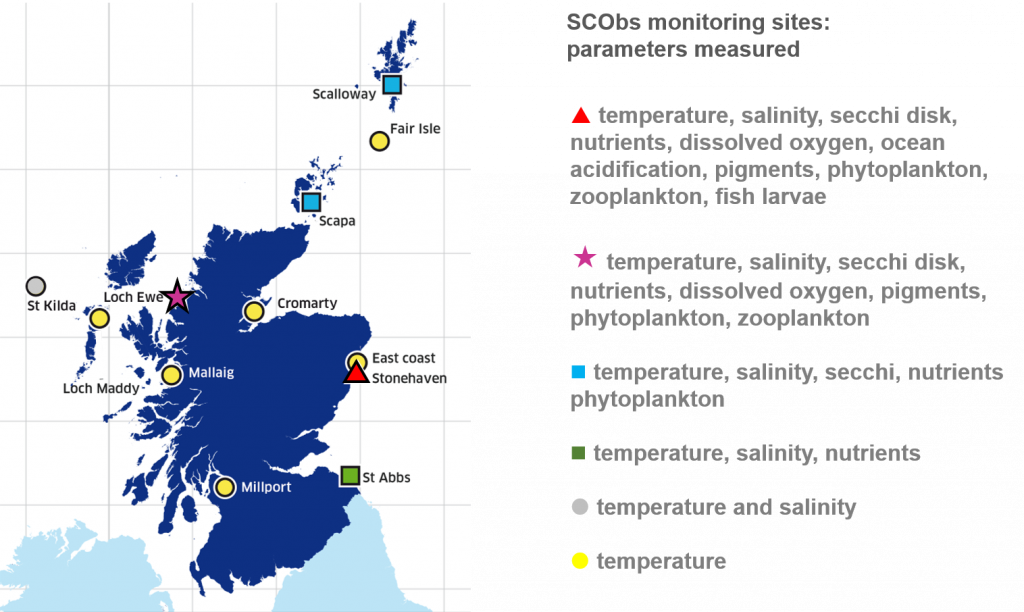 Observations from SCOBs which help inform wider Scottish Government policies include:
the temperature in Scotland's coastal waters varies regionally due to ocean circulation and prevailing weather conditions: the average annual temperature in the Clyde and along the west coast is approximately 1 oC warmer than in Orkney, Shetland and the east coast
complementary data from the Met Office show that the average temperature in Scottish coastal waters over the last 10 years were warmer than the average between 1981- 2010
the salinity (salt content) of coastal waters has declined in Loch Ewe, Scapa, Scalloway and Stonehaven since 2012 – this has the potential to impact the plankton community (microscopic plants and animals) at these sites
there has been a sharp decline in zooplankton abundance recorded at Loch Ewe and in some phytoplankton species, altering the amount and type of food available for fish larvae and shellfish
shell corrosion has been observed in the early life stages of marine snails and bivalve molluscs at Stonehaven which suggests the potential for ocean acidification to negatively impact the abundance and growth of mussels and scallops which are of commercial importance to Scotland
The SCObs programme relies on a number of keen citizen scientists and contractors, in addition to Marine Scotland directorate colleagues, to collect water samples and to lower instruments in the sea each week in all weathers.  Their commitment and enthusiasm is the reason that we can all celebrate 25 years of the SCObs programme.
Thanks to: Millport: Field Studies Council Millport, Mallaig: Hugh Cameron, Loch Maddy: John Macdonald, Loch Ewe: Loch Ewe Shellfish, Scapa: Orkney Islands Harbour Council, Scalloway: North Atlantic Fisheries College, Fair Isle: David Parnaby, Cromarty: Tim Barton, Stonehaven: The Stonehaven Sampling Team, St. Abbs: St Abbs Marine Station and St. Kilda: National Trust for Scotland.
SCObs is part of the Scottish Government's work to achieve the UN's Sustainable Development Goals (SDGs) around climate action and life below water by 2030, and relates to UN SGD target 14 on marine life. The National Performance Framework is Scotland's way to localise these goals, and sets out the vision for people in Scotland to value, enjoy, protect and enhance our environment. This progress is monitored to understand how well Scotland is performing across the environmental indicators.
For more information:
A report describing using SCObs data to describe Scotland's coastal environment was published in 2016
SCObs data has been used in multiple assessments of the marine environment and are available to read online. These assessments include:
The post Celebrating 25 years of environmental monitoring appeared first on Marine Scotland.