Marine Scotland Blog

Scottish Government Blog
Updated: 1 hour 54 min ago
We have published a new independent report, providing insights on the real life experiences, challenges and opportunities of women working in the Scottish fishing industry.
The Women in Scottish Fisheries review was carried out by PhD student, Katja Hržić in 2021 during a three-month internship in the Scottish Government's Marine Analytical Unit, and draws from a wide body of research literature.
This review was delivered as part of Scotland's Fisheries Management Strategy 2020-2030, which has a key outcome to promote fishing as an attractive and safe career of choice, supporting new entrants into the sector, and equal treatment regardless of national origin or gender. It also has the potential to shape policy outcomes which contribute to better outcomes for women working in the sector.
The review centres around three questions:
what are the perceived and lived challenges for women in Scottish fisheries?
what opportunities have supported women in fishing communities in Scotland and beyond?
women are not all the same, therefore, how do other factors contribute to the experiences of women in fisheries?
We spoke to Katja about her placement experience and her research project.
What is the stand out finding / findings for you?
"For me, it is the need to tackle sustainability and safety issues, and how improvements in these areas might have a direct impact on improving equality in the industry. This is already included in Scotland's Fisheries Management Strategy, but looking at the literature and existing reports made me realise how challenging this work is.
"Views on equality and fair employment in fishing communities are complex and not uniform, with many women taking on significant but informal or unpaid roles within fishing communities. A third of the Scottish seafood processing sector identified as female last year.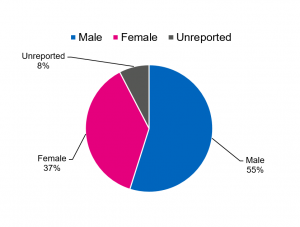 "Women often face a range of practical, socio-economic and cultural challenges. It can be something as broad as difficulty in accessing training or the disproportionate effects of the coronavirus pandemic on caring responsibilities, to something as basic as inappropriate clothing or safety mitigations which are suited more towards men.
"Throughout the report, gender-specific language was avoided, opting for 'fisher' rather than 'fisherman'. It's a small transition that quietly asks for more inclusivity within the industry."
What were the biggest challenges you faced?
"Despite the logistical challenges of the coronavirus pandemic I really enjoyed the time I spent in the Marine Scotland Directorate. I was working remotely, so it took a few weeks to get used to internal IT systems, and to feel fully integrated in the team. It really helped that everyone was very welcoming and I had a great time. Another challenge was getting the tone right in my writing but with the help and guidance from my colleagues and supervisor I learned how to structure my findings."
What was your biggest personal take away?
"I wanted to gain a better understanding of the work of the Marine Scotland Directorate, Scottish fisheries policies, and experience in applying research to policy. I now have an understanding of fisheries-related policy, especially aspects related to equality and fair employment which is something I can apply to my own research. I also gained a lot from collaborating with others and working on varied day-to-day tasks which is very different from an independent research project; I realised that this type of work really suits me, so I am considering another SG internship later in my PhD.
"Being invited to present at the Marine Social Science Network seminar was an exciting experience with an opportunity to discuss the findings with other researchers and experts on the topic."
The views and opinions of the report are that of the author and do not constitute government policy
The image at the top of this blog is copyright of Seafish: www.seafish.org
The post What it's like to be a woman in the Scottish fishing industry appeared first on Marine Scotland.
The Marine Scotland directorate of the Scottish Government currently has two consultations open as part of the 10-year Future Fisheries Management Strategy to deliver on sustainable fisheries management in Scotland.
Stakeholders have until 7 June 2022 to share their views on fishing activities and electronic monitoring activity in Scotland's waters through the respective Future Catching Policy (FCP) consultation and Remote Electronic Monitoring (REM) consultation.
FCP consultation
The FCP consultation outlines proposals to Ensure that fishing vessels operating in Scottish waters are undertaking sustainable fishing practices.  and aims to address long-standing issues around bycatch (unintentional catching of specific fish and other marine species) to minimise environmental and ecological damage.
We will work in partnership with industry, scientists and environmental groups to co-develop management measures to tackle discarding, and to reduce  catches of unwanted fish and avoid bycatch of sensitive marine species, such as seabirds, seals and dolphins,  preserving them for future generations. The FCP consultation also seeks views on additional management measures for creels, gillnet and longline fisheries.
REM consultation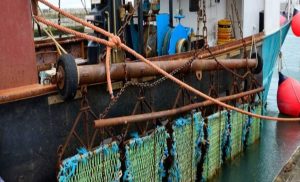 The REM consultation outlines proposals on the use of imagery, sensors and GPS to monitor fishing activity.
The consultation for certain fishing vessels  (scallop dredge and pelagic) seeks views on the implementation of an enhanced and independent level of monitoring on board . This consultation also seeks views on options for further rollout to other parts of the fleet.
REM will ensure that there will be increased transparency and accountability of fishing activity, but also that Scotland's seafood products are of the highest quality and fished sustainably.
Rural Affairs Secretary, Mairi Gougeon, said:
"The Scottish Government is committed to being a world-leader in fisheries management. We take our role as guardian of Scotland's natural marine environment seriously.
"The Future Catching Policy will build on our current approach, signalling a step change in the way in which unsustainable fishing practices are tackled.
"Remote electronic monitoring will provide us with enhanced technology in order to monitor fishing activity for certain parts of the fishing fleet, adding to our rich scientific base and delivering confidence and accountability for the consumer.
"We are demonstrating Scotland's leadership in fisheries management; cementing our credentials as responsible and sustainable fisheries managers, and signalling to all fishing vessels operating in Scottish waters that we can and must do better in order to protect and enhance our fantastic marine environment, for now and the future."
Further information:
Discards are described as fish, often dead or dying, that are returned to the sea during commercial fishing operations. As part of the reformed Common Fisheries Policy (CFP) catches of quota fish may no longer be discarded. Instead, all of the catch must be landed and counted against quota. The FCP builds on the approach established under the CFP and ensures that we can maintaining and enhance the standards that are already in place
Both consultations close on 7 June. We will then carry out analysis of the responses and seek to publish a consultation report outlining next steps within 12 weeks of the end of the consultation
The post Share your views on sustainable fisheries management appeared first on Marine Scotland.
Invasive non-native species (INNS) are plants and animals that have been introduced by humans, either deliberately or accidentally, from an area outside of their native range.
Once introduced, they can out-compete local species, creating an imbalance in the ecosystem and threatening native biodiversity. The Global Assessment Report by the Intergovernmental Science-Policy Platform on Biodiversity and Ecosystem Services (IPBES) identifies invasive non-native species as one of the main direct drivers of biodiversity loss worldwide.  The economic cost of INNS to the UK economy is calculated to be £1.7 billion annually[1].
Many cases of non-native species do not cause significant problems in their new environment. However, they have the potential to live and breed without the same dangers of predators, pests or diseases that have evolved to limit the native population. This means that they may be able to survive better than the local species, using food resources and habitats and impacting populations of local species, while multiplying rapidly themselves, thereby becoming invasive. This can have a major impact on an area's ecosystem and biodiversity.
Major impact on ecosystem and biodiversity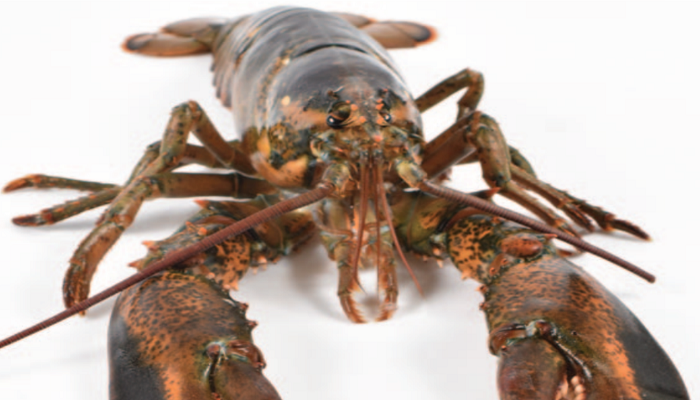 In the marine environment, INNS can spread through a variety of pathways; in ballast water, through hull fouling (marine growth) on vessels, by aquaculture stock movements and by accidental or intentional releases.  Some INNS we are particularly vigilant for in Scotland include: carpet sea squirt, American lobster, Asian shore crab, slipper limpet, signal crayfish and pink salmon (links to more information about each can be found below).
Scottish Government action
In Scotland we have been dealing with outbreaks of Didemnum vexillum or carpet sea squirt as it is also known, which is present in Scottish waters specifically in the Firth of Clyde and Loch Creran on the west coast of Scotland.
Loch Creran is a designated Special Area of Conservation (SAC) due to the presence of reefs produced by living organisms. A SAC is a special habitat and/or species as listed in the Habitats Directive, a legal framework on the conservation of natural habitats and of wild fauna and flora. Because of this protection, the Scottish Government actively engages with local marine users to help control the spread of carpet sea squirt and ensure the environmental integrity of the reef.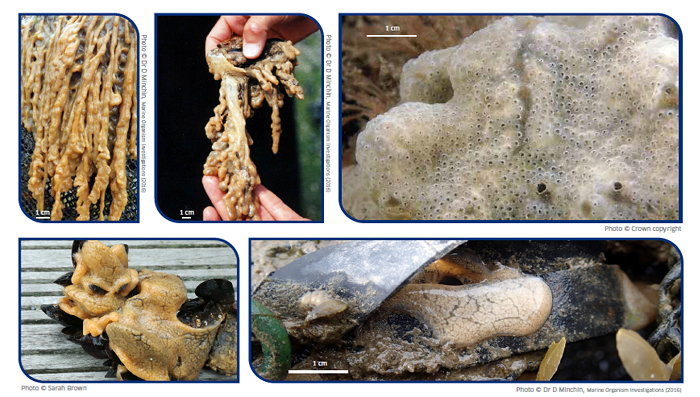 The Loch Creran Community Biosecurity Action Plan was produced by Marine Scotland in partnership with the community to help advise marine users on the best ways to manage and prevent further spread of carpet sea squirt. A similar Community Biosecurity Action Plan was commissioned for Loch Fyne, located close to the Firth of Clyde, where carpet sea squirt is also known to be present. Whilst both plans are focussed on the carpet sea squirt, the actions listed are useful and practical against many other types of marine invasive species.
Survey and Monitoring Work
Scottish Government scientists carry out annual surveys at hotspot locations for carpet sea squirt and other INNS, to assess where further action may be required. There is also a lot of work underway with the British-Irish Council about introducing a voluntary protocol for the aquaculture industry to help manage biosecurity risks involved with stock movements and prevent INNS, which could be very costly to this sector.
We are also actively monitoring for American lobster, signal crayfish and pink salmon, working with UK administrations and statutory organisations such as: NatureScot and Scottish Environmental Protection Agency (SEPA) to ensure high levels of biosecurity to prevent further outbreaks, or control spread where required.
Shetland and Orkney Islands
In Shetland, the University of the Highlands and Islands has been monitoring the presence of marine INNS for the last decade. The Shetland Islands Regional Marine Plan (SIRMP) has been developed with financial support from Marine Scotland and the Shetland Islands Council to identify areas most at risk of non-native species. This was used in the development of a biosecurity plan for the Shetland Islands and to guide where monitoring occurs.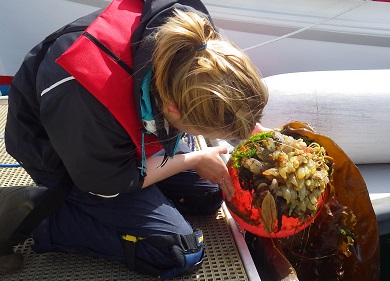 Orkney Harbour Authority conducts annual surveys of natural and artificial marine habitats using a variety of methods to collect samples and measurements at each site. This data helps to monitor the local environmental conditions because any changes over time could affect how likely new marine INNS are to spread to the region. To date, 21 marine INNS have been recorded by this monitoring programme including: Japanese skeleton shrimp, red seaweed, Bonnemaison's hook weed and orange ripple bryozoan.
Five steps to help prevent the spread
if you find a suspected INNS, these can be recorded on the UK-wide database iRecord.  A photograph, location and detailed description would be especially helpful for any reports submitted. The Non-Native Species Secretariat website has a wealth of resources, including over 60 identification sheets for various species and additional apps that can be used to record specific INNS
whenever you leave the water remember the guidance to 'Check, Clean, Dry' as some invasive plants and animals can survive for over two weeks in damp conditions
don't let any garden, pond or aquarium plants enter the wild – check the guidance for how to 'Be Plant Wise'
take care of your pets and never release them or let them escape into the wild; it could have a major impact on other wildlife
be aware of species alerts for the UK and if you see them, report them
there are lots of volunteering opportunities throughout the year – if you are interested, check for local action groups in your area and get involved
Further information:
[1] The economic cost of invasive non-native species on Great Britain. (cabi.org)
The post What are Invasive Species? appeared first on Marine Scotland.
A locally-led fisheries management pilot for the Outer Hebrides is reporting positive impacts on fishing businesses and the environment in its first year, a new report reveals.
The Outer Hebrides Inshore Fisheries Pilot is co-managed by the Regional Inshore Fisheries Group (RIFG) and the Marine Scotland Directorate of the Scottish Government.  The Pilot limits the number of creels that commercial fishing vessels may deploy in the waters around the isles. The aim of this is to improve the management of shellfish stocks in area, enabling future generations to benefit from a resource that remains of vital importance to this island community.
The Pilot is also testing one possible approach to a low-cost vessel tracking solution for small inshore fishing vessels. This is being trialled aboard 40 vessels and builds on the Scottish Inshore Fisheries Integrated Data System (SIFIDS) project led by the University of St Andrews.
Fishers in the Outer Hebrides continue to express strong support for the Pilot and are observing positive impacts on their fishing businesses.
Donald MacLennan, a Skipper for the Valhalla based in Harris said: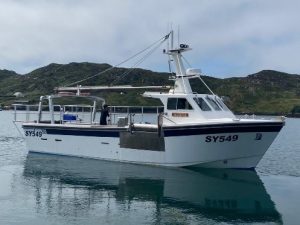 "It's been a challenging time in the wake of the COVID-19 pandemic, Brexit and the Ukraine conflict, and the rising cost of fuel, creel and nephrops catches are particular concerns.
"However, in spite of these challenges, the first year of the Pilot has worked fewer creels and reduced time at sea, leading to a significant improvement in our gross income.
"I believe the Pilot proves that with creel fishing, less can be more."
Duncan MacInnes, Secretary of the Western Isles Fisherman's Association (WIFA), said:
"The Pilot has brought a sense of stability to the fleet, especially in relation to uncontrolled creel fishing.
"The initial success has been encouraging to the members of WIFA and we would like to see an extension of the initiative to cover a much larger area of the Western Isles."
The Pilot will continue with vessel tracking until October 2022. An evaluation and qualitative assessment of the Pilot project will be conducted throughout 2022 to assess the social and economic impacts of the Pilot, and provide insights and recommendations into future projects.
Further information:
The RIFG network offers a national forum to inshore fishers, allowing them to lead the way in proposing management projects for the fisheries on which they rely, and providing a strong voice in the shared marine space.
Inshore fishing extends from the coast out to 12 nautical miles, with three quarters of the approximately 2,000 active Scottish boats fishing primarily in these waters. Typically these are smaller boats – 8-10 meters in length.
Shellfish, such as crab, lobster and Nephrops are the main target species.
Marine Scotland Supporting a new approach to fisheries management – Marine Scotland (blogs.gov.scot)
The post Outer Hebrides fisheries management pilot reports successful first year appeared first on Marine Scotland.
The International Council for the Exploration of the Sea (ICES) has agreed to adopt a new Scottish-designed fishing technology as the new international standard for co-ordinated demersal fish population surveys in the North Sea.
The Marine Scotland Directorate of the Scottish Government co-operated with international partners – the International Bottom Trawl Survey Working Group (IBTSWG) – to successfully develop this innovation, which assists in calculating accurate fish stock data, and feeds into the ICES fisheries monitoring and management process and supports the sustainable management of our seas.
The new fishing technology incorporates advances in net design and fishing technology gained over the decades.
Key design changes compared to the old system are: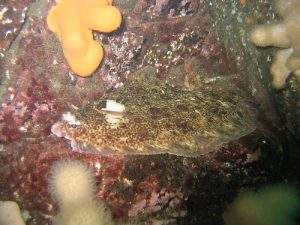 reduction in net mesh sizes (from 200mm to 100mm), and
new light ground gear.
Overall it provides a robust package which is more efficient, resilient and cost effective, as well as delivering consistent catches and better fish population estimates.
The new fish survey trawl package will replace the Grand Opening Vertical (GOV) survey model used since 1980, after it was recognised as no longer fit for purpose. A road map has been agreed to enable a smooth transition to the new technology, making sure there is no impact on surveyance of yearly fish stocks. It is hoped this transition will be completed within three years.
Further information:
Demersal fish are also known as ground fish and live on or near the bottom of the sea / lakes (the demersal zone). Examples include: Atlantic cod, herring, plaice and turbot.
ICES is an intergovernmental marine science organisation which meets to provide impartial evidence on marine research, and advise member nation governments and international regulatory commissions on the health of fish stocks and the sustainable use of the world's seas and oceans.
The post Scottish fishing technology adopted as new global standard appeared first on Marine Scotland.
The Scottish Government has launched the Blue Carbon International Policy Challenge (BCIPC) today (21 April 2022), with awards of up to £10,000 available for five successful projects that will establish blueprints for domestic and international climate action to support the marine ecosystem. Applications are open until 19 May 2022.
The challenge, which will run until the start of October 2022, aims to bring together private, public and third sector organisations from across the globe to increase our collective knowledge of blue carbon habitats, which play an important role in capturing and storing carbon, as well as for climate adaptation and biodiversity.
Each project will address a key question for blue carbon policy, helping to identify the opportunities and barriers to scale up ocean action, in Scotland and internationally.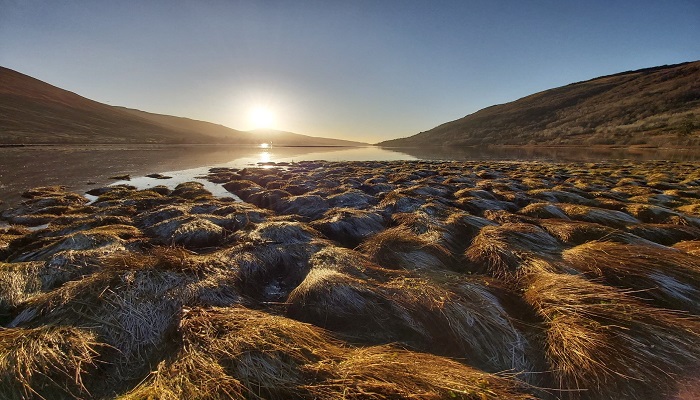 While Scotland is leading the UK on blue carbon research and our developing expertise is internationally recognised, more research is needed to inform our approach to protecting and restoring these important habitats, which include saltmarshes, seagrasses, kelp beds, biogenic reefs and more.
The Blue Carbon International Policy Challenge aims to fill gaps in our knowledge of blue carbon and provides a vital link between COP26 and COP27.
Minister for Environment and Land Reform, Mairi McAllan said:
"International collaborations, such as those that will be developed through the Blue Carbon International Policy Challenge, have a critical role to play in bringing people together to work towards a common goal, enabling exchange of knowledge and best practise and helping to accelerate action"
"We welcome applications from organisations around the world to enhance our shared understanding of blue carbon, tackle the challenges we are facing together and deliver on our COP27 blue carbon ambitions both in Scotland and beyond."
Chair of the Scottish Blue Carbon Forum, Professor William Austin (University of St Andrews)
said:
"I would like to commend the Minister and the Scottish Government on their post-COP26 commitments to blue carbon and particularly the support for international partnership working that has been announced today. The challenges to our oceans are global in nature and I am delighted that Scotland's progress in developing a forward-looking blue carbon research and policy agenda can now be extended through this new initiative – we have much to learn and much to offer through such international partnership working."
"This announcement will echo across the international community, many of whom joined us in Scotland during COP26. The announcement highlights our shared commitment to blue carbon nature-based solutions that can deliver for climate, people and biodiversity."
Further guidance on how to apply, including eligibility criteria, can be found on the  Scottish Blue Carbon Forum website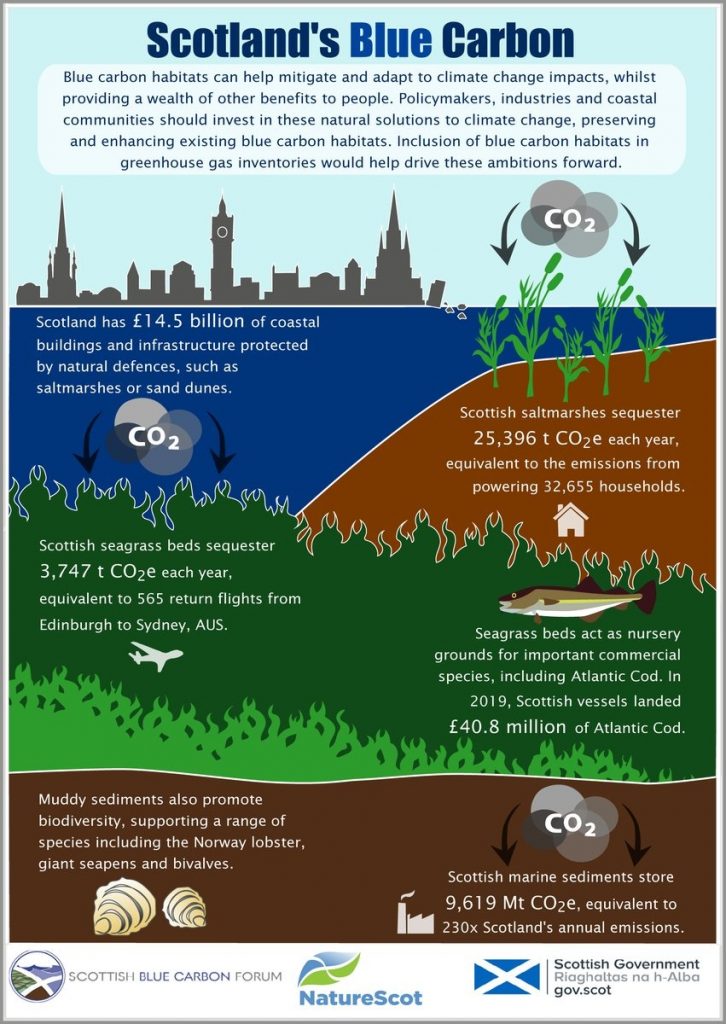 Further information:
Feature image: Minister for Environment and Land Reform, Mairi McAllan. Crown copyright.
The post Progressing Scotland's Leadership on Blue Carbon appeared first on Marine Scotland.
Our understanding of the distribution, behaviour and biology of the critically endangered blue skate has been greatly increased by recently published research.
Working with Nord University, Norway, the University of Aberdeen and the Centre for Environment, Fisheries and Aquaculture Science (CEFAS), scientists from the Marine Scotland directorate of the Scottish Government set three clear objectives:  to ask if blue skate forms distinct populations in different areas of the sea;  to determine the size of these populations; and to identify any signals that might suggests that skate populations are responding to environmental changes, including climate change.
Historically, the blue skate was one of the most abundant skates and rays in the Northeast Atlantic and was widely distributed in the seas surrounding the British Isles. Unfortunately, both blue skate and flapper skate populations have declined drastically over the last century. Part of the elasmobranch group, which also includes sharks and rays, skates are characteristically slow to grow and mature and have a relatively low reproduction rate, which makes them particularly vulnerable to human-induced impacts such as fishing.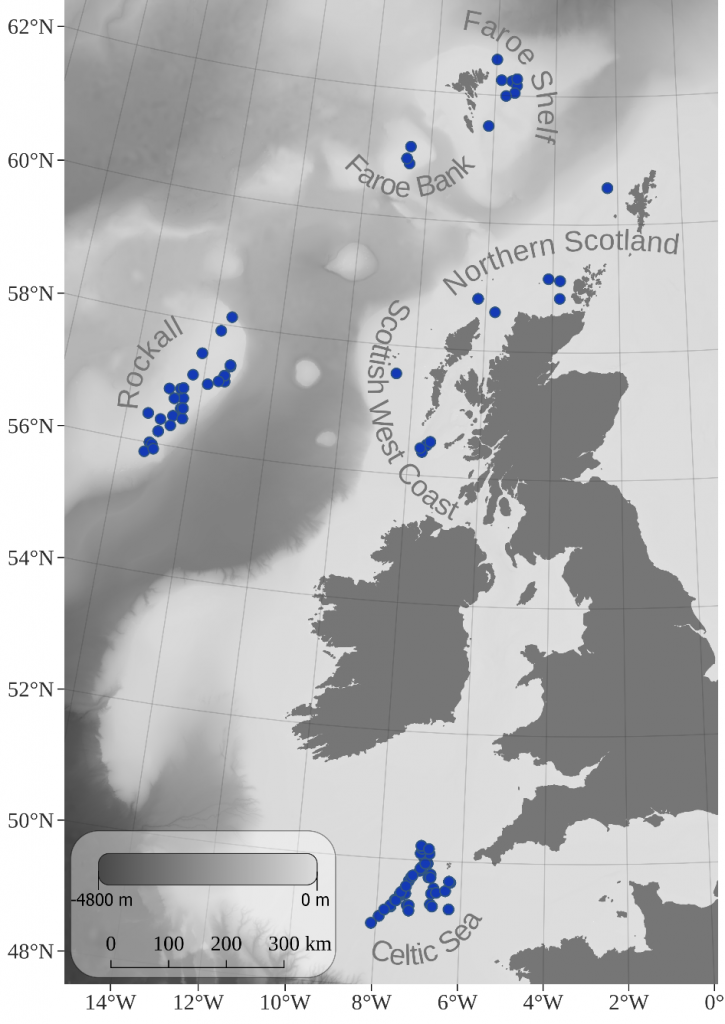 The study used genetic data collected from blue skate during surveys on our research vessels, Scotia and Alba na Mara (Figure. 1). Analyses of these data suggest that distinct inshore (British Isles) and offshore (Rockall and Faroe Island) populations exist and that population sizes are largest in the Celtic Sea and Rockall, but low enough in Scottish west coast and Faroese sites to be of potential conservation concern.
Further results from this study highlight how a changing climate can put populations of threatened species like blue skate under pressure. Of the 21 genetic markers (a sequence of DNA) identified in the study, one was found to be linked  with environmental variables predicted to be affected by climate change, including bottom temperature, salinity and pH.  While the biological function of this genetic marker is not yet fully understood, the results suggest that climate change could affect the survival of this species in some areas, further reducing the area of suitable habitat where populations of blue skate might flourish.
Skate are classed as a Priority Marine Feature and have been identified as a species of conservation importance in Scotland, the UK, the North-east Atlantic and globally. Data from this study will help with the conservation of this rare and endangered species and will further support the UK Marine Strategy.  With almost one-third of elasmobranch species globally threatened with extinction the results of this scientific study may provide vital insights on the distribution, behaviour, and biology of blue skate in the North-East Atlantic that can inform future conservation efforts for this and other critically endangered elasmobranchs.
Further information:
The post Studying the critically endangered blue skate appeared first on Marine Scotland.
To mark International Women's Day (8 March 2022), we are sharing some of the achievements of women working in various roles across the Marine Scotland directorate of the Scottish Government.
Kelly McIntosh, Marine Chemist works in our science team (main picture above) Kelly said:
"I grew up in Fraserburgh, before doing a Bachelor of Science (BSc) in Forensic and Analytical Science at Robert Gordons University in Aberdeen. Part of my degree involved an 18-month industrial placement with Shell at the St Fergus Gas Processing site.
"While on placement, I worked as a technician alongside the Process Chemist carrying out compositional analysis of oil and gas samples and the components which were pumped down to Mossmorran Natural Gas Liquid Plant for further processing. We were also responsible for keeping an eye on the air emissions from the gas turbines. This was quite exciting because it involved climbing the massive stacks that tower over the site to carry out the analysis.
"I went on to complete a masters in Environmental and Analytical Chemistry at University of Aberdeen, and this was what brought me to the Marine Laboratory. My research project was based at the Marine Laboratory and involved looking at a specific type of plastic to see if it acted as a vector for the introduction of persistent organic contaminants into the marine food web.
"After graduating in 2014, I joined the Environmental Monitoring and Assessment Group, working on the determination of nutrient concentrations in sea water. In 2016, I joined my first research survey, where I supported the primary Water Chemist with nutrient analysis in the containerised laboratory, on-board marine research vessel (MRV) Scotia. This trip was preparation for me joining the December Hydro Survey as the Water Chemist, I was going solo! Although the idea was terrifying, I really loved being part of a team who were out in the field and gathering data from the long-term hydrography lines east of Orkney, which run between Shetland and the Faroe Isles."
Eilidh Cox, is a Second Officer in our operations team Eilidh said: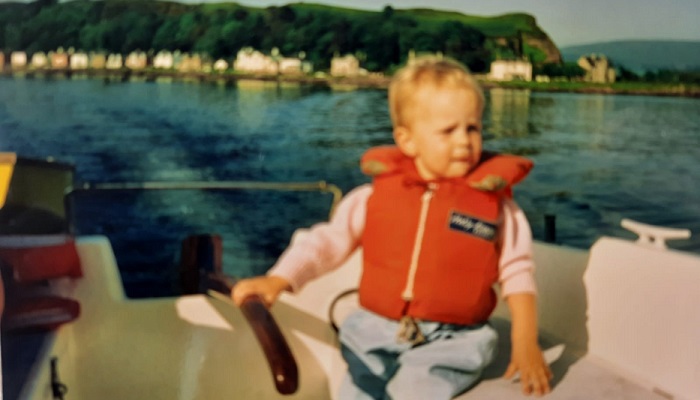 "Growing up I spent a lot of time on the water sailing with my family around the west coast of Scotland. As a child I loved the adventure of exploring our beautiful islands by boat. But it wasn't until I was in my mid-20s that I started to consider turning my passion for being on the water into a career.
"After a year working as crew on a charter sailing yacht, I started looking into pursuing a career at sea. I learned about Merchant Navy cadetships and started applying for deck officer training schemes with various training providers.
"I was offered a place on a three-year cadetship programme with Chiltern Maritime, funded by the UK's Maritime Educational Foundation (MEF). During my training I was placed on a number of different types of ships including an LNG gas carrier, cruise ships and a British Antarctic Survey logistics ship.
"Being able to set foot on the Antarctic continent was a definite highlight of my career to date. This range of experience during my training gave me great insight into the different possible directions I could take my career and solidified my ambition to become a Merchant Navy deck officer.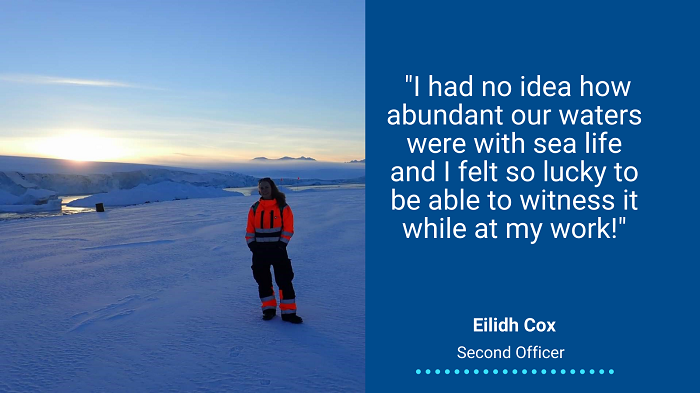 "After three years of training both on ship and at City of Glasgow Nautical College, I achieved my Officer of The Watch qualification. I was then offered my first job as 3rd Officer on LNG carriers where I spent six months working deep sea around the world.
"In 2020, I was contacted by a friend who was sailing as 2nd Officer with the Marine Scotland directorate of the Scottish Government, who informed me that there was a spot available on one of their MPVs to sail as 2nd Officer. I immediately expressed my interest and by the end of the day I was signing my first three-week contract to join the MPV Hirta in Aberdeen.
"During my first trip on-board the Hirta we departed Aberdeen and were tasked over to patrol the fishing grounds west of Orkney and Shetland, as well as in the Minch and the waters around the stunning Isle of Skye. It was an unbelievable trip where I saw more wildlife than I had seen in the rest of my career to date. I saw countless marine mammals such as orca, humpback whales, dolphins and many more; I had no idea how abundant our waters were with sea life and I felt so lucky to be able to witness it while at my work!
"Last year, I successfully secured a permanent position as a 2nd Officer within the organisation and I couldn't be happier! I'm now beginning my training to become a warranted British Sea Fishery Officer, which will allow me to lead inspections of fishing boats in Scottish waters during fishery patrols amongst other duties. I hope to eventually return to college to gain my Chief Officer and Master's qualifications, and have a long and fulfilling career at sea."
Louise McKenna, is a 3rd engineer in our science team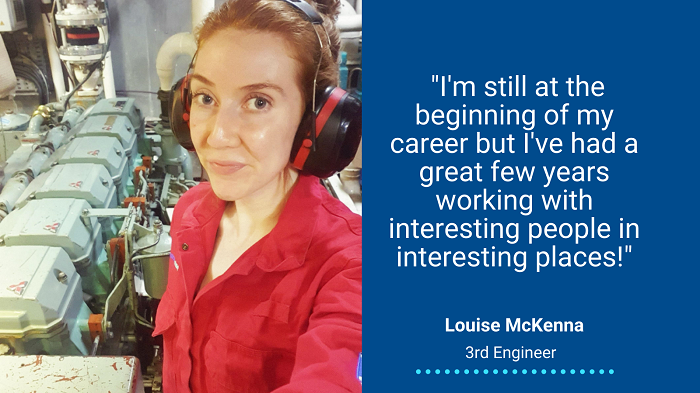 Louise said:
"I was born and bred in Glasgow and studied Naval Architecture and Marine Engineering at Strathclyde University. It was a great four years but as the job at the end is mostly office based, I decided that I needed something a bit more hands on. After a bit of searching around, I applied for the Merchant Navy and studied in South Shields near Newcastle.
"I was hired by a cruise ship company for my cadetship which was a great experience. I managed to see a lot of the world that I wouldn't normally have the chance to (from Alaska to South Korea to the Caribbean), and I continued to work on cruise ships for a few years after achieving my 3rd Engineers licence. I had always wanted to work on a research vessel and the Covid pandemic provided me with the chance to start working with the Marine Scotland directorate of the Scottish Government.
"I've been working with Marine Scotland since the beginning of 2021 on one of their MRVs, Alba Na Mara. Our trips last for 3-4 weeks at a time with different researchers from the science lab coming on-board each trip. The work that they complete with us can vary so much from trip to trip; it could be collecting water samples near the Inner Hebrides to analyse plastic pollution, collecting seabed samples on the Scottish East Coast to analyse blue carbon levels, dropping off hydro-acoustic mooring devices in the Moray Firth to track the sounds of the dolphins and whales that live nearby or using our underwater cameras in the Marine Protected Areas around Scotland to assess how well the areas are recovering. We're lucky enough to see a huge variety of wildlife on our travels – from baby common octopus to baby dolphins.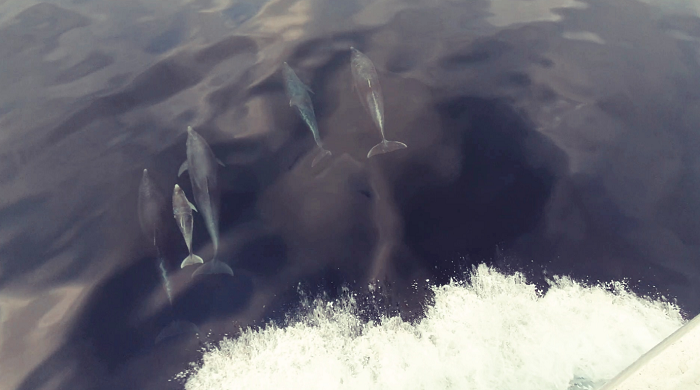 "It's been quite a change coming from cruise ships to a small research vessel – I've gone from a vessel 270m in length with 2000 crew members, to 27m in length and eight crew members! The Scottish Coastal waters can be quite choppy in the winter months too, a big change from the smooth sailing around the calm Caribbean waters.
"Each day varies on-board, but it usually starts with putting on my boiler suit and doing the morning engine room round. Once it's time to set sail from our anchor point or harbour, myself and the Chief Engineer will get all of the engines and systems started up for departure, making our way through the extensive list of departure safety checks. Throughout the day we will continuously monitor the engine room along with completing our scheduled maintenance tasks. Every so often we encounter problems with some machinery and it's rewarding to see the system working again after the challenge of working through the issue.
"If anyone is thinking about becoming an engineer or working at sea, I'd definitely recommend asking some questions and looking into it further. I'm still at the beginning of my career but I've had a great few years working with interesting people in interesting places!"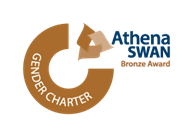 In 2019, the Science team in the Marine Scotland directorate achieved the Athena SWAN Bronze gender equality award, recognising commitment to, and progress on, equality and diversity; particularly in relation to gender. Since, colleagues have been working through an action plan to continue fostering improvements to gender equality and enabling all colleagues to achieve their maximum potential.
If you are interested in a role within the Marine Scotland directorate of the Scottish Government, we have a number of different vacancies on our careers hub.
The post Sharing women's achievement in our marine directorate appeared first on Marine Scotland.