Marine Scotland Blog

Scottish Government Blog
Updated: 1 hour 5 min ago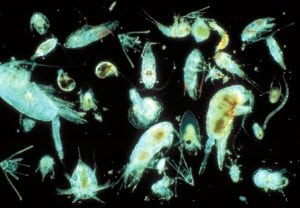 The Marine Collaboration Research Forum (MarCRF) is a successful cross-disciplinary initiative developed between the University of Aberdeen and Marine Scotland Science. Its priority is to work with each other as well as stakeholders and policy makers to provide the science necessary to identify research priorities, co-develop innovative research programmes and an evidence-based framework to deliver policy relevant science.
We're delighted to be able to publish the latest list of PhD opportunities:
Assessing the efficacy of an MPA for protection of the common skate: integrating population genomics, tagging and modelling to determine connectivity, abundance and recruitment.
Plankton impacts on farmed fish (PIFF)
Environmental regulation of algae DNA methylation and timing of harmful algal blooms in the North Sea
Assessing responses of marine top predators to offshore structures
Developing Marine RangeShifter as a platform for computer-aided spatial management of fish stocks
PRETURB:   Predator & Prey behaviour around tidal turbines
Optimising the use of fisheries-dependent data in real time reporting to benefit the Scottish demersal fleet
The physical impact of towed fishing gears on the seabed
Biodiversity monitoring in deep sea marine ecosystems using eDNA
Metagenetic surveillance for marine invasive non-native species using eDNA
More information is available on the Aberdeen University website and on findaphd.com.
The post New MarCRF PhD proposals appeared first on Marine Scotland.
Duration: 25 March – 03 April 2017
Gear: Surface and subsurface PAM moorings
Objective:
To deploy a series of moorings comprising dhan buoys (9 surface marked moorings) and acoustic release systems (21 subsurface moorings) with attached acoustic recording devices (30 C-POD and 10 SM2M) as part of the east coast marine mammal monitoring programme (see Table 1 and Figure 1).
Procedure:
Loading of all equipment will be carried out on 22 March. Alba na Mara will sail from Fraserburgh on the morning of 25 March and after all required drills make passage for the first mooring position.  The ultimate order in which the moorings are deployed will be dictated by the current weather forecast and the likely shelter that can be provided by the east coast.  Accurate position records will be kept detailing where the moorings are eventually placed as this may differ from the planned position.  If all the moorings have been deployed before the scheduled end of the survey Alba na Mara will carry out range-testing of acoustic salmon tags using a moored system already deployed within Aberdeen Bay.
Figure 1: Positions of all 30 moorings to be deployed during cruise 0417A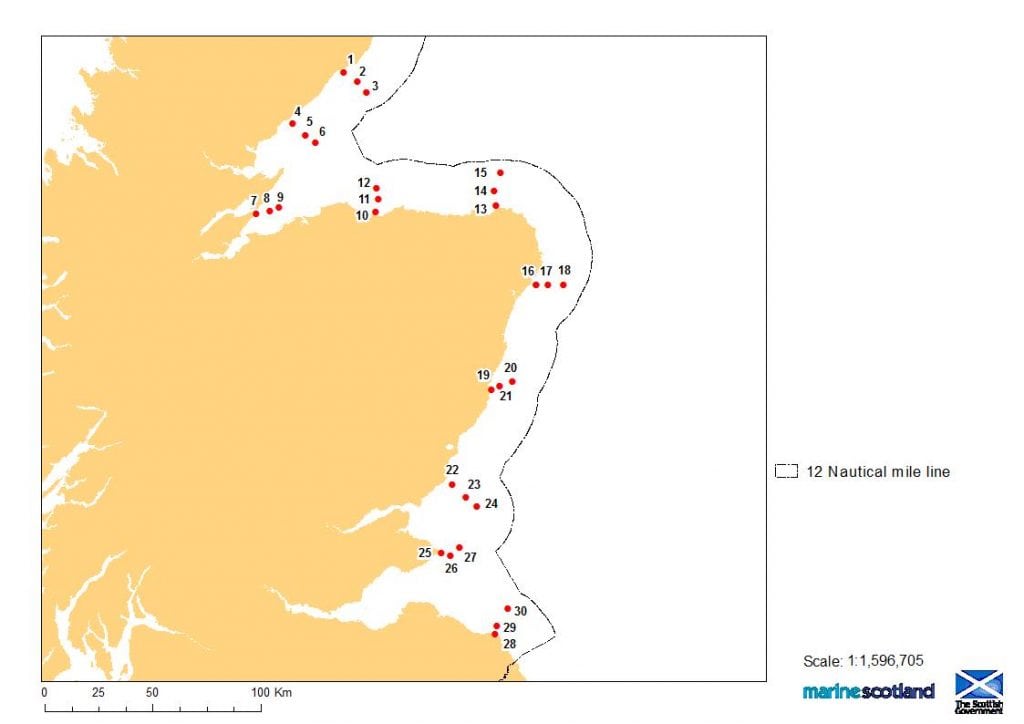 Table 1: ID, name and geographic position of all 30 moorings to be deployed during 0417A. Moorings proposed to be surface-marked highlighted in grey.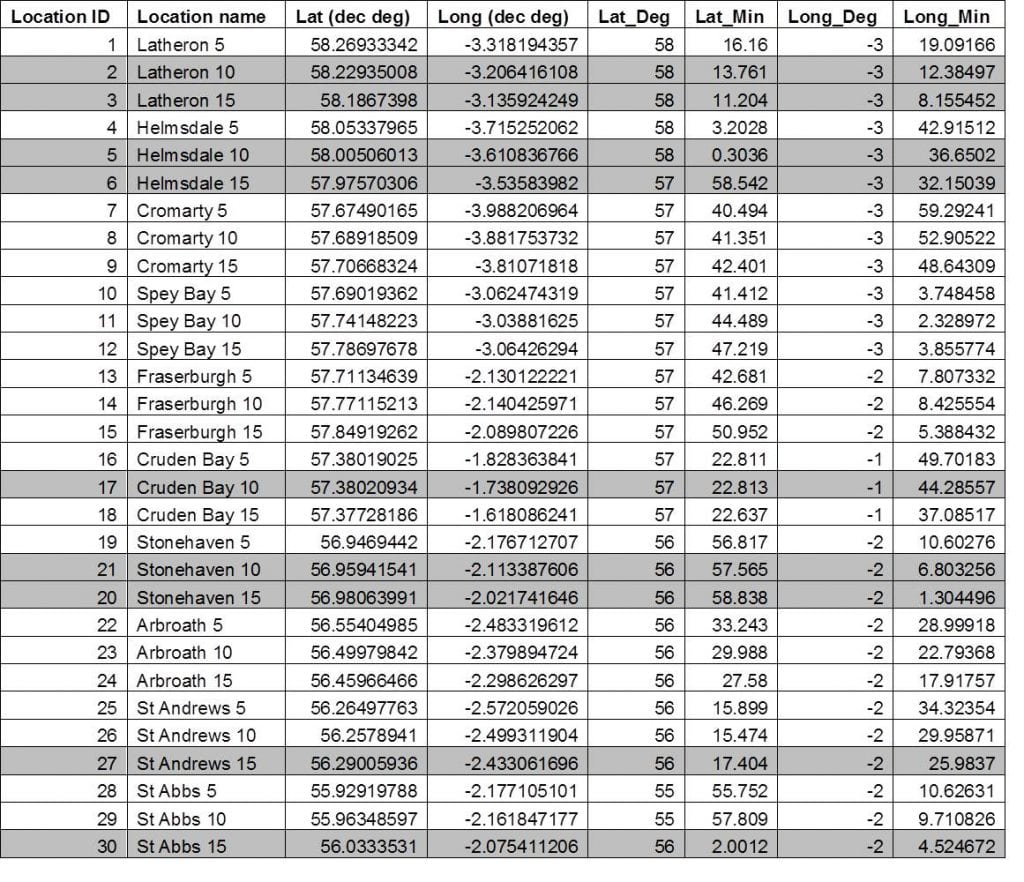 ***********************************************************************
Further Information:
The post MRV Alba na Mara Survey 0417A Programme appeared first on Marine Scotland.
In the next few days some colleagues will be donning their gloves, picking up their biodegradable bags and heading out around the beaches of Aberdeen in an effort to rid the shores of unsightly litter. The first event is organised by the Marine Conservation Society at Nigg Bay, further details are shown below.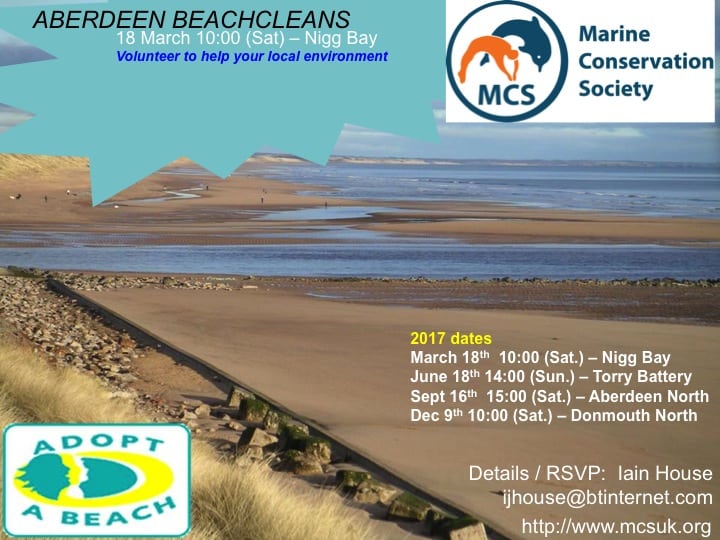 Then on the 20th and 21st March starting at midday on both days, beach cleans will be happening as part of the Surfers Against Sewage annual "Big Spring Beach Clean". Colleagues will be concentrating on three sites within Torry; Nigg Bay Beach, the beach running parallel to Greyhope Road prior to the first Harbour break water and the small beach just inside the first breakwater (see map).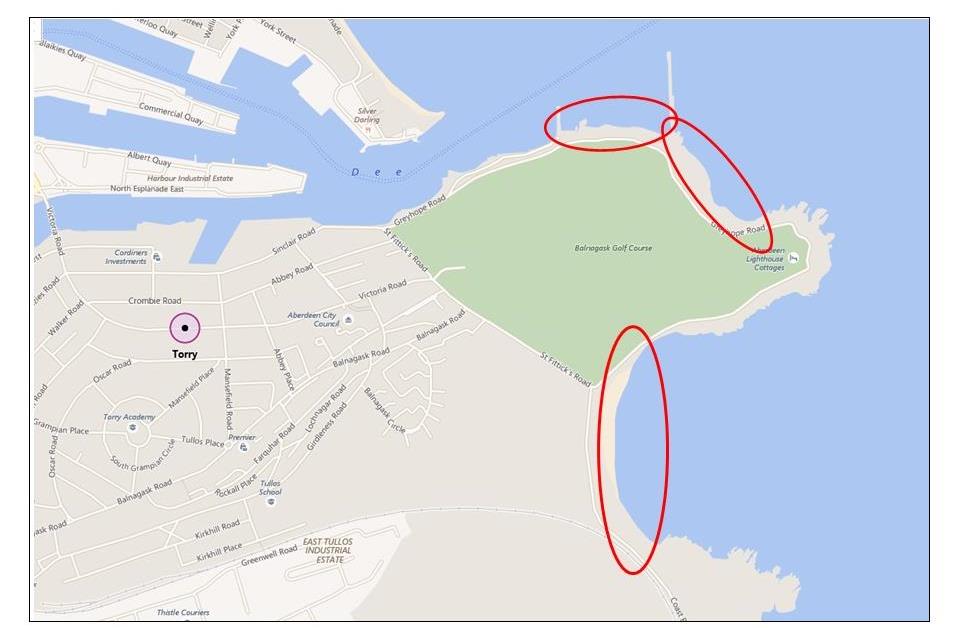 The first day meeting point is at Nigg Bay car park. Best reached on foot due to the current roadworks. Gloves and biodegradable bin bags will be supplied, however please bring your own gloves and bags if possible. A sharps box will be available on the day, please do not pick anything up that may cause harm – just inform the organisers and they will dispose of it in the sharps box. It goes without saying that the weather can still be brutal at this time of year so please dress appropriately. The cleans will last approximately 1 hour, but any time at all that can be spared is most appreciated.
***********************************************************************
Further Information:
The post Keeping the Beaches Clean in Aberdeen appeared first on Marine Scotland.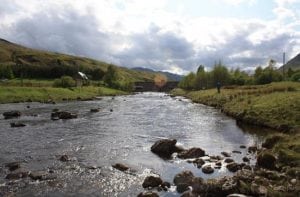 Many of Scotland's rivers contain important rearing habitat for juvenile Atlantic salmon, an anadromous fish species that supports an economically important fishery and is often a target for conservation with many of its home-rivers designated as Special Areas of Conservation. Many of these rivers also generate hydroelectricity, which is an important source of renewable energy (see Figure 1 for an example).
Since the late 19th century, an extensive network of inter- and intra-basin water transfers has been developed to increase the potential for hydroelectricity and more recently numerous small run-of-river hydropower schemes have been completed or are planned. Notwithstanding the current need for renewable clean energy sources, these developments have led to a substantial alteration in the flow regime of those rivers and their connectivity. In turn, this has raised concerns that the regulation of rivers might have consequences for the maintenance and conservation of economically important Atlantic salmon stocks in Scotland. To mitigate against the possible negative effects of river regulation, river restoration projects aim to restore the natural connectivity and functioning of salmon habitat. However, these projects tend to be expensive with uncertain outcomes in terms of success. Therefore, it is important that tools are developed to identify those areas where restoration efforts are most likely to be successful in terms of yielding high quality habitat and fish production.
One way to assess habitat change (loss or gain) is to look at how dams have altered the connectivity of rivers. Connectivity is a metric (indicator) that describes how well an individual fish can travel along the longitudinal profile (length) of a river. Put simply, it identifies whether adult Atlantic salmon can reach their spawning grounds from the sea, whether juveniles can migrate locally (between summer and winter habitats), and whether smolts can reach the sea from their natal streams. Often the amount of fish habitat lost or gained is assessed by simply identifying changes in accessible wetted area (river area). Although data on changes in wetted area are easily obtained and the approach is potentially useful at large scales, this approach has some drawbacks. Primarily, it does not include any information of the actual quality of fish habitat. In practice, this means that there is a risk that assessments of impacts on longitudinal connectivity focus on areas that may not be important in supporting local fish communities and thus limit the quality and relevance of such assessments.
Using the River Lyon as a case study (Figure 2), scientists at the University of Aberdeen, Marine Scotland Science and the James Hutton Institute investigated the importance of different types of weighting in an analysis of longitudinal connectivity. Put simply, weightings allow you to prioritise river reaches according to their value and this value can be represented in different ways. The weightings used were based on: 1) habitat suitability for spawning; 2) predicted salmon fry production; and 3) wetted area. Habitat suitability for spawning was based on data from a walkover survey that classified the geomorphology of the river reaches in combination with observed habitat use by adult spawners in similar Scottish rivers. The predicted salmon fry production was based on a model developed by staff at the MSS Freshwater Fisheries Laboratory, in Pitlochry. An additional benefit of the fry density model was that it allowed investigation of how fry production in the river Lyon has changed between a pre-regulated (before dams went in) and a regulated state. Wetted area was estimated using Ordnance Survey maps of the river and the lochs present within the river network.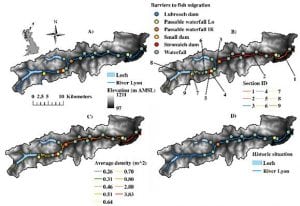 The results indicate that using wetted area alone to assess regulation impacts could misinform managers and regulators, because it suggests that the most important area for connectivity is the area upstream of the Lubreoch hydropower dam. However, according to the other weighting approaches, most of the valuable connectivity for salmon is maintained by the sections lower on the river. This shows that including more relevant details about the quality of the habitat rather than just total area (habitat suitability indicators and river productivity) can improve our ability to identify those areas in the river network that are able to maintain high levels of connectivity. Focussing on those areas could increase the ability of a regulated system to provide suitable in‐stream conditions important for ecosystem functioning or provide a valuable tool for prioritising the removal of historical barriers and weirs that are no longer required. This sort of information could also be useful for setting flow and process‐related targets for the regulation of rivers and floodplains. It is estimated that the introduction of barriers (dams) in the river Lyon resulted in a 21% (95% CI 16–26.5%) reduction in fry production relative to the natural state.
Changes to guidelines for specific river systems should be made with appropriate caution as it is necessary to first ascertain the robustness of the approach. Moreover, any management and conservation decision needs to be based on a solid understanding of what the ecological targets are. This study has looked at a fundamental element (i.e., longitudinal habitat connectivity) that makes up the habitat template, but needs to be part of a holistic approach in which the spatial and temporal aspects of, for example, hydraulic conditions, temperature, community dynamics, and sediment budgets are considered as well.
Further Information
The post How do dams impact river connectivity and salmon populations? appeared first on Marine Scotland.

The fourth Scottish Inshore Fisheries Conference will be held on Thursday 27th and Friday 28th April 2017 at Eden Court in Inverness.
The conference will open on the afternoon of Thursday 27th April with a session to introduce the EMFF funded Scottish Inshore Fisheries Integrated Data System or 'SIFIDS' Project.  This project will focus on using new technologies and processes to improve data collection and use within Scotland's inshore fisheries, with the intent of reducing the reporting burden on fishermen and improving the information base on which fisheries management decisions are made.   This session is then followed  by the official opening of the conference at an evening reception at Eden Court (17.30-19.00)  and all delegates are welcome to attend this.
On Friday 28th April 2017, Fergus Ewing MSP, Cabinet Secretary for the Rural Economy and Connectivity will open the day, and delegates will also have the opportunity to attend sessions on a variety of subjects including fisheries management challenges and actions, Brexit, marketing the local catch and a session delivered by Norwegian colleagues on how they manage inshore fisheries.
There will be ample opportunity for networking, visiting stands, speaking to representatives from a range of organisations, celebrating our fantastic seafood, and sharing experiences and knowledge in an informal setting on a wide range of issues.
Delegates are free to attend both days or register for one and can register at https://www.eventbrite.co.uk/e/scottish-inshore-fisheries-conference-2017-tickets-32082048270
More Information
The post Scottish Inshore Fisheries Conference 2017 appeared first on Marine Scotland.
We are currently seeking applications for a Salmon Assessment Modeller within Marine Scotland Science based in Pitlochry.
This post will be based Freshwater Fisheries Programme, which provides research and advice in support of Scottish Government policies in relation to freshwater and diadromous fish. The post holder will develop juvenile assessment models, improving approaches for characterising habitat and modelling juvenile densities at national scales. The post holder will also be required design and develop strategic monitoring networks for freshwater fish, with a particular focus on juvenile sampling strategies in the first instance.
Further Information:
The post Vacancy – Salmon Assessment Modeller (Closing date 20th March 2017) appeared first on Marine Scotland.
I work as a physical oceanographer for Marine Scotland Science and every December I am also the Scientist-in-Charge (SiC) of the MRV Scotia's research cruise.   Before taking over the December cruise I work-shadowed a colleague who taught me the ins-and-outs of Scotia and this type of cruise.  Funnily enough not many people are keen on being out on a research vessel in the North Atlantic in December; let alone being in charge of it.
On that cruise we cover the northern North Sea and the Faeroe-Shetland-Channel, sometimes not the most pleasant place in winter. The weather in December can be variable, anything from calm (getting all the work done in time) to blowing gales most of the time and forcing us to shelter for days (getting no work done).
My official duties as SiC include:
Working to achieve the scientific objectives (i.e. making decisions about the science);
Organising science planning meetings beforehand;
Paperwork (writing the cruise programme and cruise summary report);
Responsibility for the health and safety of the science crew (i.e. risk assessments, making sure that people get some sleep and don't work too much);
Logistics (cabin allocations, watch list, transportation of equipment, containers);
Visitors (paperwork, training);
Post-processing and backing up of data; and
Pre/post cruise meeting with captain and officers.
What this means is that during the cruise I usually meet the captain in the morning to discuss the day's work, look at the weather forecast, and make decisions about the upcoming work plan. I enjoy knowing what is happening and analysing the different options (well, sometimes there are no options and all we can do is seek shelter in Faeroe, Shetland or Orkney). As SiC I am the point of contact between the science crew and the bridge and basically I am on call for the whole cruise (I get called for any serious problems). I work a normal shift plus then some more, for data processing for example.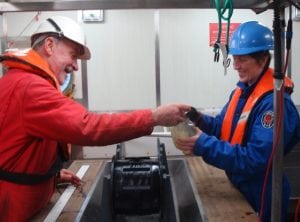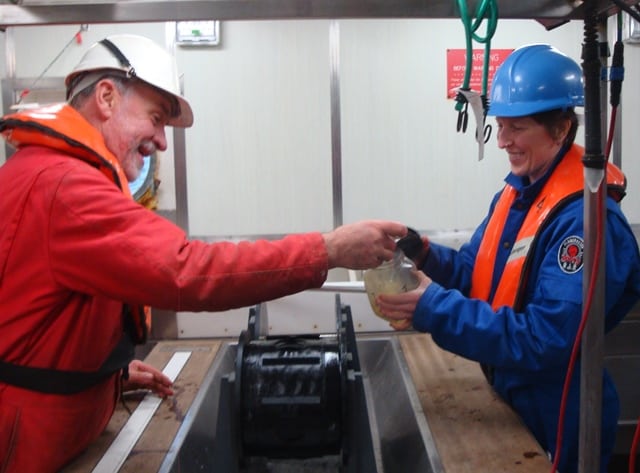 Before and after the cruise there is quite a bit of organising and paperwork involved. While at sea there is the responsibility but also the advantage of knowing what's going on, having discussions with the captain/crew, and planning each day.
Another task is to keep up morale. In December we miss lots of the festive activities on land so we try to make our own fun and get involved with activities such as our 'secret Santa', cookie-eating evening and so on whilst off shift.
The crew on Scotia are predominantly male; something I've never really minded.  However, on our last cruise we actually had an even male/female split for the science crew.  That doesn't happen often so it was encouraging to see.
My advice would be; if you are female and are thinking about a career in STEM, just go for it! I have had lots of positive experiences by being female and once the crew realises that you know what you are doing you definitely have their respect. I strongly believe that calmness is a superpower.  I have been inspired by SiC Humfrey Melling while working onboard a Canadian icebreaker during my PhD who handled his cruises superbly and calmly. Overall I really enjoy being at sea and being SiC on our December Scotia cruises; even though it is a lot of hard work and responsibility.
Dr Berit Rabe
*********************************************
Further information:
The post How would you like to be a Scientist-in-Charge? appeared first on Marine Scotland.
Joint Warrior (JW) 171, will take place between 8th and 20th October 2016 and will comprise of a programme of exercises conducted across the UK by land forces, warships, submarines and aircraft from 15 Nations. The majority of the exercise will be focussed in the airspace, offshore and coastal waters to the North and North West of Scotland. During this exercise, there will also be unmanned vehicles operating in the Northern Minch and Sea of the Hebrides from 2 October.
Further Information
The post Joint Warrior Training Activity: 26th March – 2 April 2017 appeared first on Marine Scotland.
Pages