Marine Scotland Blog

Scottish Government Blog
Updated: 35 min 42 sec ago
We are currently seeking applications for two Fisheries Observer posts within Marine Scotland based in Aberdeen. This is a permanent and pensionable appointment and new entrants will normally start on the minimum of the pay range. Candidates with a disability who meet the essential criteria below will be invited to the assessments.
Within the Data Collection (DC) Group, which is part of the Fisheries Data Programme, fisheries observers carry out essential tasks, and the duties reflect the need to develop essential skills in fish and shellfish sampling and age determination (where relevant) and thereby maintain Marine Scotland Science's capacity to collect data and perform stock assessments for quota species important to the Scottish fleet. Applicants must be capable of and willing to work at sea on board commercial fishing and research vessels. The post-holder will be required to travel to remote locations around Scotland and, on occasion, to work unsociable hours.
Qualifications Required
For jobs in Band A, you must hold a minimum of 5 Standard Grades (grades 1 – 3) or Ordinary Grades (A-C) including English and a numerical subject.
Other qualifications equivalent to these may also be acceptable, if you are in any doubt please contact to discuss.
Please note: If you fail to demonstrate how you meet the minimum qualifications as stated above, your application will be automatically sifted out.
Essential Criteria
Good organisational skills, ability to plan and prioritise work and use your own initiative.
To be a confident communicator with good verbal and written communication skills.
Experience of collecting, accurately recording and entering data into basic computer packages (e.g. Excel).
Experience of working with fish and/or shellfish on sea going commercial or research vessels.
For further information on these vacancies please download and review the "Person Specification and Further Information for Job Applicants" which you will find below. To apply, you must fully complete and submit an online application via this website before the closing date. To learn more about this opportunity, please contact: Adrian Weetman on 0131 244 4142 (adrian.weetman@gov.scot), or Nabeil Salama on 0131 244 3205 (nabeil.salama@gov.scot).
If you experience any difficulties accessing our website or completing the online application form, please contact the Resourcing Team on 0131 244 3963 or via recruitment@gov.scot.
Further Information:
The post Vacancy: Fisheries Observer, Aberdeen, closing date: 23 May 2019 appeared first on Marine Scotland.
Marine Scotland has recently been working in close partnership with the Dornoch Environmental Enhancement Project (DEEP) initiative to make sure that a large number of molluscs are disease free. Pioneered by Glenmorangie, in partnership with Heriot-Watt University and the Marine Conservation Society, the DEEP initiative was created to restore native European oysters (Ostrea edulis) to the Dornoch Firth.
European oysters flourished in the Dornoch Firth up to 10,000 years ago before their rapid decline in the 19th century. Their return to the Firth for the first time in over 100 years began in March 2017; with 300 oysters from Loch Ryan finding a new home on the two sites in the Dornoch Firth. Heriot-Watt University plan to move approximately 20,000 oysters over the course of this water-purification project with the aim of building an established reef within five years.
And that's where we come in.
Our colleagues in Disease Diagnostics have been performing the molecular screening for harmful pathogens including: Bonamia ostreae, Marteilia refringens and Ostreid herpesvirus-1, on behalf of Heriot-Watt University. Eann Munro, Disease Diagnostics Group Leader, has been overseeing the screening work and commented "Marine Scotland has been screening native oysters for three pathogens listed under EU legislation on behalf of the DEEP Project. Using highly sensitive, specific and rapid molecular assays we can rule out the presence of these pathogens in a timely manner. DEEP consider it is vitally important that the molluscs are screened prior to transfer to ensure that a high level of biosecurity is maintained. This is a very interesting conservation project and we are delighted that we are able to contribute to the success of the DEEP Project".
Further Information:
The post DEEPly Committed to a Thriving Oyster Population appeared first on Marine Scotland.
Marine Scotland has been leading this EMFF-funded project which is aimed at involving fishing vessels in MPA monitoring. This is a joint project between Marine Scotland and Scottish Natural Heritage. The project is managed by Seascope Fisheries Research Ltd, with Charlotte Johnston of Crangon Ltd providing monitoring survey expertise.
This is the second in a series of guest blogs from Kyla Orr from Marine Ecological Consulting, who is supporting stakeholder engagement on the project.
The 2019 survey season is now underway as part of the EMFF project that is engaging fishers in marine environmental monitoring. The first survey of the year was successfully completed in the Inner Sound between 11th to 20th March, and on the last day we had the opportunity to meetup with the survey team as they disembarked from Kyleakin. They kindly agreed to a video interview so that we could learn more about how the surveys are planned and run, and capture their thoughts on the highlights and challenges of the trip.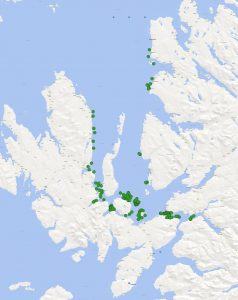 The aim of this most recent survey was to document seabed habitats and Priority Marine Features in Loch Alsh, the Inner Sound and off Wester Ross, using a drop-down video camera.  The team were given pre-determined survey locations from Scottish Natural Heritage (as GPS co-ordinates). Whilst timed to hopefully overlap with herring spawning activity, the survey also coincided perfectly with Storm Gareth resulting in very challenging weather conditions, so each night the team had to think long and hard about where they could safely deploy the drop-down camera. Thankfully, due to the geography of the Inner Sound there were still plenty of sheltered locations where the vessel could safely operate and gather high quality footage of the seabed. A total of 151 sites were surveyed over 10 days, covering a diverse range of habitats from flame shell beds and horse mussels to burrowed mud (see map left for survey sites).
A break in the weather allowed the vessel to steam up to Wester Ross to record footage of herring spawn, which had settled onto a maerl bed in a thick jelly-like mat. This was undoubtably the highlight of the survey for the whole team, and it was captured in the same location where herring were filmed spawning on the recent Blue Planet series (just north of Loch Torridon).  Herring were once abundant on the west coast of Scotland and supported an important commercial fishery. However, stocks declined significantly after the 1960s, and the stock remains at low levels today – hence documenting a potentially important spawning ground was a very positive aspect of this EMFF survey. It is hoped that the drop-down video footage gathered will improve our understanding of seabed habitats that are important for the settlement and survival of herring eggs.
The location of the herring spawn, as well as some of the Priority Marine Features in the Inner Sound, were identified based on knowledge from local divers (members of the Scottish Scallop Divers Association). Some of their observations have been scientifically validated by the video footage recorded during this survey. This is one of the ways in which SNH and Marine Scotland are working with fishers to gather scientific evidence on the distribution and extent of Scotland's fantastic marine life.
This survey was one of several scheduled to take place this year, and the next surveys will take place in Orkney and Shetland during May and June.
Further Information
The post Engaging the Fishing Industry in Marine Environmental Survey and Monitoring – Part 2 appeared first on Marine Scotland.
MFV Genesis BF505 Programme
Survey: 1019H
Duration: 17-25 April 2019
Fishing Gear: Anglerfish Trawl BT 195
Objectives
:
Undertake a nationally co-ordinated demersal trawling survey of Anglerfish (Lophius piscatorius and Lophius budegassa) in the Northern North Sea, ICES area IVa.
Record and map distributions of Megrim (Lepidorhombus wiffiagonis), Four-Spot Megrim (Lepidorhombus boscii) Cod (Gadus morhua), Blue Skate (Dipturus cf. flossada) and Flapper Skate (Dipturus cf. intermedia).
Collect biological data on Anglerfish species, Cod, Megrim, Four-Spot Megrim, Blue Skate and Flapper Skate.
Procedures
This trawl survey follows a set of protocols drawn up by an industry science survey planning group made up of Marine Scotland scientists and fishing representatives. These protocols share much in common with the sampling regimes described in Marine Scotland standing instructions for demersal trawl surveys.
The survey track and sampling locations will be delivered to the skipper prior to departure.
Trawling
One haul of 60 minutes duration will be made at each sampling station; trawling operations will occur in waters up to a maximum of 1000 m. Daily starting times will be 06:00 hours and all trawling should be complete by approximately 23:30 hours each night. The Scanmar system will be used to monitor wing spread, door spread and distance covered during each haul. A bottom contact sensor will be mounted on the footrope.
Catches will be worked up according to the protocols for Marine Scotland Anglerfish surveys which are similar in principle to Marine Scotland standing instructions.
Further Information:
The post Demersal Trawling with Genesis appeared first on Marine Scotland.
Pages