Marine Scotland Blog

Scottish Government Blog
Updated: 2 hours 42 min ago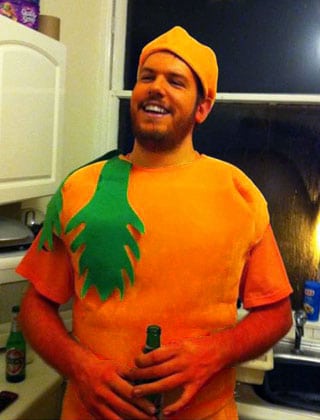 The year 2018 is both the Year of the Engineer and the Year of the Young Person – and this blog is about one of our many colleagues who are inspiring the next generation with their Outreach work.
Meet Carl Jones – British Seas Fisheries Officer based in our Peterhead office.
When not dressing up as a carrot… read on to find out what else he gets up to!
Who are you and what do you do?
My name is Carl Jones and I am a British Seas Fisheries Officer working for Marine Scotland in the Peterhead office.
What's your career path been – how did you get here?
To get to my current position, I took the long way round and subjected myself to University twice. In doing so I got my BSc (Hons) in Zoology from the University of Dundee and then after some time away working as a team leader in I attended Edinburgh Napier University and gained a MSc in Wildlife Biology. The first job I applied for after this turned out to be my current job.
What made you decide to be involved in Outreach?
As an undergraduate, I worked as a teaching assistant for 1st-3rd year students, which was great fun and helped me to develop my communication and interaction skills.
After I graduated a took on some part time tutoring work and continued to do so once I began my Masters. When I began my current role, a member of staff mentioned I could use this drive and passion I had for helping others understand science better by becoming a STEM Ambassador.
If you weren't doing this, what do you think you'd be doing instead?
If I wasn't an FO there are 2 things I could see myself doing. First would be continuing to work my way up through Tesco management and generally going through the motions or following up on my MSc work and published paper as a PhD and chasing that dream of becoming a Dr in Zoology.

What's your favourite fishy fact?
My fave fishy fact… the city Yoro in Honduras experiences an annual weather event called the "lluvia de peces" or "Rain of fish" in which hundreds of fish rain from the sky. Though this does sound iffy but my other random fact is that sharks are the only fish to have eyelids.
What do you enjoy most about doing Outreach?
I really enjoy sharing information and seeing how it helps someone understand. I have always loved learning when the teacher is enthusiastic about the subject and so I try my best to do the same. Sometimes a topic can seem difficult for a student but if it is put in terms they understand then they will remember it.
Would you encourage others to get involved in Outreach too?
I think everyone should give it a go. The worst that happens is you help someone for an hour or so. But it's easy to fall for it like I did and now have done talks with local schools, taught topics for classes and sat in on experiments, which I can help the teacher and students.
Further Information
The post Celebrating Science and Year of the Young Person – Carl Jones appeared first on Marine Scotland.
Survey: 1218A MRV Alba na Mara
Duration: 13-22 August 2018
Gear: Subsurface Passive Acoustic Monitoring (PAM) Moorings
Objectives: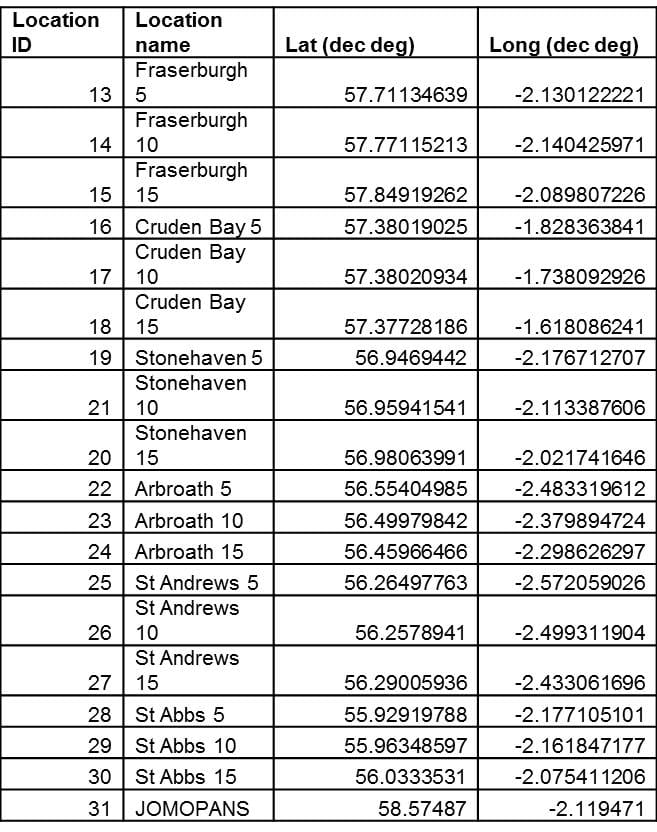 To retrieve and deploy a series of acoustic release systems (19 subsurface moorings) with attached acoustic recording devices (19 C-POD, 6 SM2M and 1 sound recorder) as part of the east coast marine mammal monitoring programme and JOMOPANS project (see Table 1 and Figure 1).
Procedure:
Alba na Mara will sail from Fraserburgh on the morning of 13 August and make for the first mooring position. The ultimate order in which the moorings are retrieved and deployed will be dictated by the current weather forecast and the likely shelter that can be provided by the east coast.
Accurate position records will be kept detailing where the moorings are eventually replaced; as this may differ from the planned position. If all the moorings have been retrieved and deployed before the scheduled end of the survey, Alba na Mara will head to Aberdeen Bay to allow scientific staff to retrieve moorings with VR2 salmon detectors between Ythan Estuary and Findon Ness.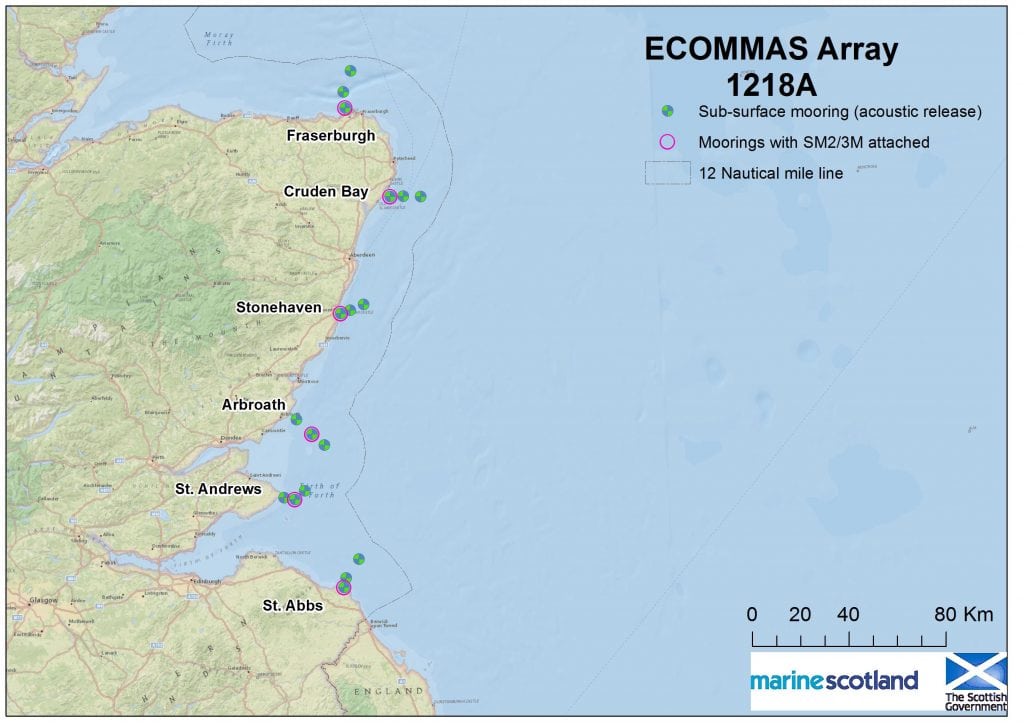 Further Information:
The post Location, Location, Location appeared first on Marine Scotland.
Survey: 1118S MRV Scotia
Duration: 28 July – 17 August 2018
Fishing Gear: Grande Overture Verticale (GOV) trawl (BT 137) with Ground Gear A and B
Objectives:
Complete an internationally coordinated demersal trawling survey in the North Sea in ICES area IV.
Obtain temperature and salinity data from the surface and seabed at each trawling station using a SEABIRD 19+Conductivity, Pressure & Depth (CTD) device.
Collect additional biological data in connection with the EU Data Collection Framework (DCF).
Opportunistic completion of zero hours hauls to assess unquantified time spent by the trawl on the seabed.
Deployment of three Autonomous Underwater Vehicle (AUV) gliders as part of the AlterEco project.
General:
Scotia set sail on the morning of 28 July and proceeded to the first station northeast of Peterhead at the Buchan Deeps (North of 57o 30'N), where a shakedown haul was completed to check the net configuration and the SCANMAR units.
Trawling:
There are 73 programmed rectangles to be surveyed (shown below).  Trawling will be undertaken during the hours of daylight which will vary depending on the vessels latitude at any given time. Towing time at each station is 30 minutes as standard.
Due to the discussion at the International Bottom Trawl Survey Working Group (IBTSWG 2017) additional information on trawl deployment and retrieval will be recorded; to better understand variability and provide an accurate estimation of the total time required for each vessel to successfully complete a 30 minute tow.
Further to this, and if time permits, Scotia will also undertake several 15 minute trawls followed by zero-hour trawls (defined as when the trawl is hauled as soon as the nominal haul duration would have started in an ordinary research haul). Zero-hour deployments will be completed in sets of three along a single extended trawl track and at a range of depths.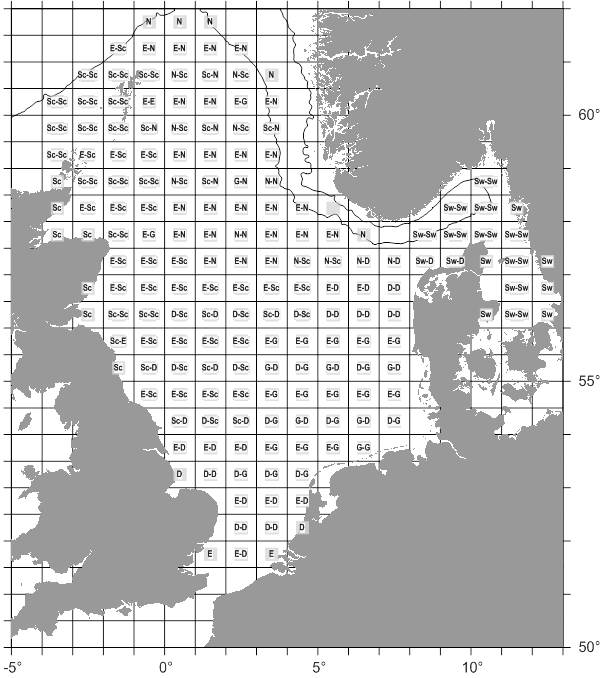 The GOV survey trawl will be used solely with the 47 m (short) sweeps throughout the survey. Two ground gear types will be used during the survey, the lighter "A" rig being used on all stations south of 57o30' N and the heavier "B" rig being used north of 57o30' N.
The SCANMAR system will be used to monitor the headline height, wing spread and door spread for each haul. Bottom contact data from each haul will also be collected using the NOAA bottom contact sensor which will be mounted in the centre of the ground gear.
In addition to the routine sampling utilising the EDC system, biological data will be collected for target species in line with the EU data regulation. All fish will be processed in accordance with Standing Instructions.
Hydrography: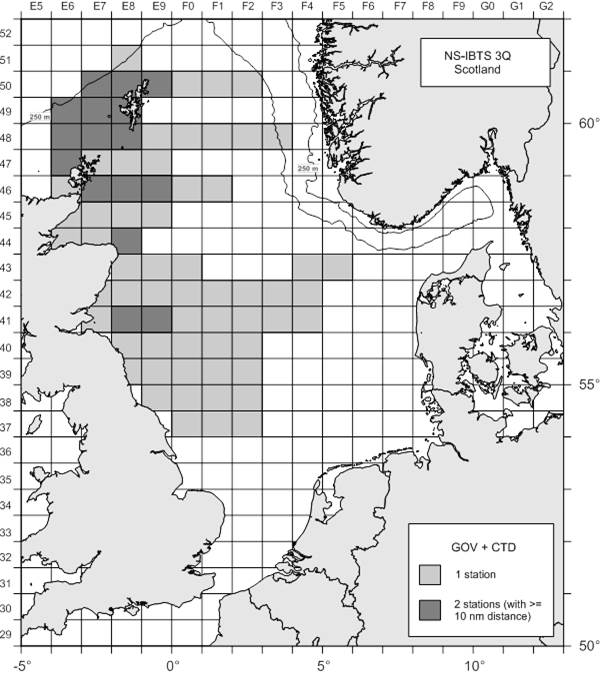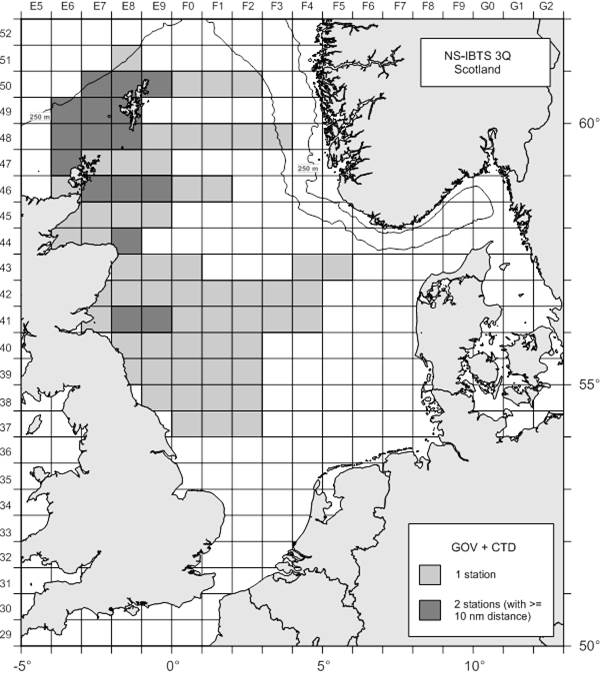 CTD casts will be taken at every trawl station. These provide surface and bottom temperature and salinity information. Reverser bottles affixed to the CTD wire will also be used to collect water samples that will be analysed back at lab to provide information on salinities, nitrates, silicates and phosphates.
In addition, 17 (20 litre) carboys will be filled with sea water, according to the Water Collection SOP (0805 – Section 8.3.1) for the Chemistry department at the lab to use for nutrient analysis.
AlterEco Gliders:
In collaboration with the National Oceanography Centre, Liverpool, we will aim to deploy one AUV glider at the most northern point of the survey in 51E8 and two further gliders around 56o00'N, 02o00'E.
Further Information:
The post Trawling with the Data Collectors appeared first on Marine Scotland.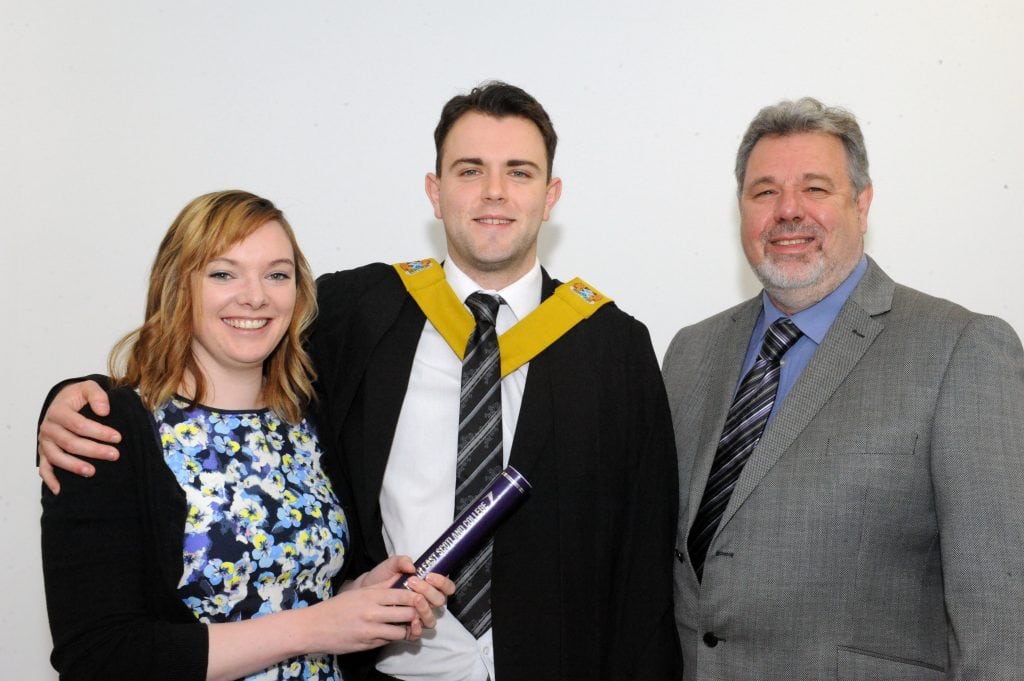 Last month, as part of our celebrations of the Year of the Engineer as well as the Year of Young People, we introduced you to one half of our father and son Engineering team – dad Phil Copland.
This month, as promised, son Danny Copland gets his own back!
Who are you and what do you do?
My name is Danny Copland and I am currently employed as an acoustics technician based at the Marine Laboratory in Aberdeen. I am part of the coastal and offshore fisheries branch within Marine Scotland Science and I have been in post for around a year and a half.
Why is what you do important?
I am part of a small band of individuals within the Science whose responsibility it is to look after certain key pieces of scientific survey equipment. We are responsible for the operation and maintenance of various systems aboard our research vessels Scotia and Alba Na Mara such as the Reson Multibeam system and the Simrad EK60 vertical sounder to name a few. These systems are essential survey tools, without which we could not hope to provide accurate stock estimates. I am also responsible for the maintenance of Scanmar catch control systems which are used extensively on our IBTS trips as well as the calibration of marine weighing balances. We also maintain the EDC (Electronic measuring boards) used aboard Scotia during fishing surveys.
What's your career path been – how did you get here?
My first job was back in 2007, I was employed for a year at the offshore rentals company Seatronics Ltd based in Aberdeen. I was employed as a workshop technician within their Rent IT subsidiary who supplied rental PCs and peripherals to the offshore industry. Here I gained a good working knowledge of computers and their upkeep.
I then studied law on a full time basis at Robert Gordon University in Aberdeen, graduating with my bachelor degree in 2011. However, after graduating, I decided that a career in the legal profession wasn't for me; I had more interest in the field of engineering.
After leaving university, I was offered another post with Seatronics Ltd, this time with their fishing division based in Peterhead. Seatronics Ltd were the main Scanmar dealership in the UK so I became proficient in the deployment and upkeep of the various sensor types. I also became accustomed to working with marine weighing balances as well as electronic logbooks. Although primarily based in the workshop, I would quite regularly be required to attend fishing vessels in the UK and Ireland to diagnose problems and install equipment. Seatronics sent me to NESCOL college on a day release basis and after two years I had received an HNC in electronics. During my time at Seatronics Ltd, I was in frequent contact with Marine Scotland Science as they operate a large amount of Scanmar equipment so I was familiar with their employees and how their sensors were being used.
After four years with Seatronics Ltd, I fancied a different challenge. It came to my attention that Marine Scotland had advertised a post within their Offshore fisheries branch in late 2016. From my time working with Seatronics Ltd I was interested in the work that was carried out at Marine Scotland and I felt that I possessed many of the requirements for the post, notably the requirement to have experience with Scanmar sensors, so I applied. Fortunately I was successful in my application and I began working with Marine Scotland at the start of February 2017.
What's your proudest achievement so far?
Due to the variety of tasks that fall on our group, I have had a steep learning curve. The number of personnel within our group has fallen and will continue to fall over the next couple of years as colleagues retire so there is added incentive that I learn as much as possible within the short time frame available. I took part in several trips, mainly aboard Scotia last year. My proudest moment derived from this in that I felt that I was able to contribute something valuable to each of these cruises.
Be honest – what's it like working with your dad??
As mentioned it has been a steep learning curve, however, this has been lessened by the fact that my dad works in the same group as myself and has done for the past 44 years!! It was my dad that encouraged me to apply for my current role and I must say that I am glad I listened to him. I enjoy working with my dad as he has a wealth of knowledge (Although he might not realise it!!) and he has patience in abundance which make it easier for me to learn. I feel very privileged to work not only with my dad, but also with everybody else I have encountered so far in my short time at Marine Scotland.
What would you say to any aspiring young engineers?
From my relatively short experience as an engineer, I believe that it can be an incredibly rewarding experience. However, on rare occasions, when things aren't working the way they should after hours of tinkering, you can sometimes find yourself questioning your choice of profession!! The one thing that engineering does offer you is variety; Every day is different and that is one of the things I find appealing about my job.
And one fun fact about you?
I am a keen football fan and I like to watch Peterhead FC at home, usually with my dad when I get the opportunity. However, after their recent showing in the play-off final, it has occurred to me that I must be a glutton for punishment!!
Further Information
The post Celebrating the Year of the Engineer with a father and son – Danny Copland appeared first on Marine Scotland.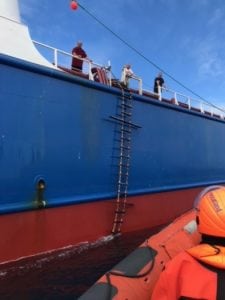 On the 16th of July a boarding party from MPV Jura, including two trainees, carried out a routine inspection of the Dutch pelagic freezer trawler 'Afrika' to the east of Fair Isle.
The 'Afrika' is big vessel – 126m long with 11 refrigerated seawater tanks (RSW) onboard, giving her a total capacity of over 690m³. A big vessel means a long climb up from the boarding boat (a Rigid Inflatable Boat (RIB)) to the lowest accessible deck of the ship and in this case, it was about 7m from the waterline to the deck, with the only access being rope a boarding ladder lowered by the ships crew down to the RIB.
Whilst the North Sea is enjoying the same fantastic weather conditions that folks ashore are, the famed swell can still cause a metre or so of movement between the RIB and the ladder so boarding teams have to be professional and confident when transferring between vessels to avoid putting themselves and others into an unsafe situation. On this occasion there were no problems and the boarding party were all safely up the ladder and aboard 'Afrika'.
Once aboard we were met by the 1st Mate of the vessel who escorted the boarding party to the Bridge to introduce us to the Captain. With the formalities out of the way the inspection started with a routine check of the paperwork need to allow the 'Afrika' to fish in Scottish waters. With all of this being in order, the boarding party moved to the working deck of the vessel to commence 'dipping' the RSW tanks to ascertain the volume of catch onboard.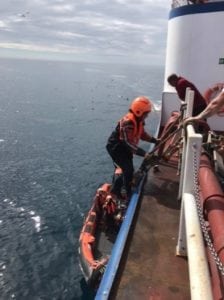 To do this, an ullage (the amount of evaporation/leakage) must be checked in each tank, by 'dipping' a measuring tape with a lead weight on the end to determine the depth of water and using that to calculate a m³ volume of catch onboard from ullage tables provided by the vessel. One of our roles to know how to perform an ullage measurement, so this was a great opportunity for some training! It's not necessarily the easiest role to perform on a moving ship but our trainee managed this successfully as the m³ figure derived from their measurements against what the vessel was recording from it's own electronic sounding equipment was very close indeed.
A second check is performed on the working deck to confirm that firstly, the separator through which the fish is pumped (which allows water to escape but fish to be retained) is welded securely in place and cannot be tampered with and secondly, that the space between the bars of the separator is compliant. By using callipers to measure the spacing between the bars and having a visual check of the separator we were able to confirm that it was indeed complaint and there were no issues.
With the total catch aboard calculated and the inspection team satisfied by the deck operation it was time to inspect the factory and hold areas. The 'Afrika' processes her own catch – on this occasion herring – and sorts the fish by size before freezing it into blocks and storing it in their freezer hold until their return to port. With 40 plate freezers aboard, each with a capacity of 52 blocks, and each plate freezer taking about 200 minutes to deep freeze a block, all running 24 hours a day while at sea, this is a huge operation. The ship will expect to stay at sea for approximately 2 weeks at a time, by which time it will have hoped to have filled it holds and return to port for landing.
After inspecting the factory area the inspection team moved down to the freezer hold (with their  gloves firmly on!) to observe the loading operation there. Crew work in the freezer hold for four out of the six hours they are on shift, loading frozen blocks by hand from a conveyor belt into place. The freezer hold is kept at -18 ͨ, or colder to ensure none of the catch spoils and it can be landed in the best possible condition. A welcome relief from the summer sun being enjoyed, but only for a short time!
With the inspection complete and the inspection team satisfied that all was as it should be, it was back to the Bridge of 'Afrika' to complete the paperwork. All thanked the 1st Mate and the Captain for taking the time to explain the vessel operation to our trainees who both found the experience valuable in their ongoing training.
With that, it was a call to MPV Jura to confirm that the inspection was complete and to request that the RIB came alongside for disembarking 'Afrika'.
A positive boarding and training experience and thanks to the Officers and Crew of 'Afrika' for being so accommodating throughout.
Further Information
The post Inspecting a freezing Afrika appeared first on Marine Scotland.

Survey: 1118A MRV Alba na Mara
Duration: 27 July – 07 August 2018
Gear:
Day grabs (x 2) – supplied by Marine Scotland Science (MSS)
Craib corer – supplied by MSS
Drop-down video frame – supplied by Scottish Association for Marine Science (SAMS)
Acoustic Doppler Current Profiler (ADCP) mooring.
Objectives:
The objectives of this survey are to:
Sample sediment in sea lochs (north coast and west coast) using day grab
Sample sediment in sea lochs (north coast and west coast) using Craib corer
Use drop-down video to survey seabed in sea lochs (north coast and west coast)
Sample kelp detritus in sea lochs (north coast; west coast) using day grab
Deploy a mooring with ADCP in the Pentland Firth.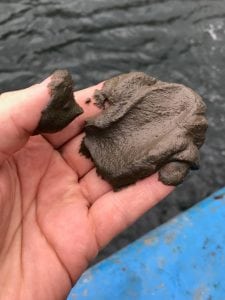 The MRV Alba na Mara is currently at sea amongst the sea lochs of north west Scotland, collecting sediment samples, as part of a research project involving Marine Scotland, Scottish Natural Heritage (SNH), the universities of St Andrews and Glasgow, Heriot-Watt University and the Scottish Association for Marine Science (SAMS).
This project will attempt to advance our understanding of the role of Scotland's seas as a carbon store (so-called "blue carbon"). It is believed that the sequestration (locking in) of carbon compounds in marine sediments could account for around one-fifth of Scotland's emissions of greenhouse gases. Improving our understanding of this important carbon sink, especially within our Nature Conservation Marine Protected Area network, is important when assessing the threats to future carbon storage in our seas, such as physical disturbance, increased storminess or a warming ocean.
Currently aboard are Professor William Austin and Dr Craig Smeaton from the University of St Andrews, and Professor Michael Burrows and Alasdair O'Dell from SAMS, along with Marine Scotland Scientists.
William and Craig are looking at the organic material within sediments, to try and quantify the carbon locked away at the bottom of sea lochs, whilst Mike and Alasdair are interested in the role of kelp as a carbon store. The team are taking grab samples of surface sediments, followed by cores of deeper sediments in softer muddy areas of the lochs to examine the biogeochemistry of the samples. Additionally, Alasdair's PhD involves the use of a drop-down camera system which he designed, and has collected some stunning photographs of the seabed, specifically targeting fragments of decaying seaweed.
The scientists and crew have been very fortunate with some fine weather and the opportunity to visit some places rarely explored by ship, deep into Scotland's fjord-like sea lochs with stunning mountain scenery and wildlife such as dolphins, porpoises, seals and eagles.
Further Information:
The post Sampling and Surveying the Sea Lochs appeared first on Marine Scotland.
Pages