Marine Scotland Blog

Scottish Government Blog
Updated: 20 min 1 sec ago
The annual meeting of the North-East Atlantic Fisheries Commission (NEAFC) took place between 15-18 November in London, with parties agreeing a number of proposals which aim to ensure the conservation and optimum utilisation of fishery resources in the NEAFC Regulatory Area.
The meeting was attended by all six Contracting Parties to the NEAFC Convention: United Kingdom, Denmark (in respect of the Faroe Islands and Greenland), European Union, Iceland, Norway and including Russian Federation.
Scottish Government officials worked closely with the UK Government and remained aligned with wider Foreign, Commonwealth Development Office (FCDO) principles on attending the meetings with Russian Federation officials. The aim was to ensure the Russian Federation saw no additional benefits from any outcomes agreed, including not supporting any proposals tabled by the Russian Federation. The Scottish Government supported the UK in making strong statements condemning the invasion of Ukraine, with similar statements made by the other Contracting Parties.
Key outcomes of the annual meeting included a rollover of the existing closure of the Rockall haddock box, a measure which protects juvenile haddock in the area. This closure has been in place for a number of years, and the UK worked together with the EU to table this measure, which was agreed by consensus.
Measures were also adopted for Atlanto-Scandian herring (ASH) and blue whiting in the NEAFC Regulatory Area (international waters) in 2023. These measures reflect the outcomes of Coastal State consultations and prevent countries who are not Contracting Parties (Coastal States or fishing parties) from fishing these stocks. A measure for mackerel will be tabled via correspondence once an Agreed Record has been signed by the Coastal States.
In addition, six new deep sea chimaeras species were added to the NEAFC Scheme of Control and Enforcement, as well as a new measure for Irminger Sea redfish, to strengthen the current zero total allowable catch in place for the stock. A number of additions were also made to the list of stocks for which discarding is prohibited in international waters.
Parties also agreed to adopt a number of control and enforcement measures in the Regulatory Area including improvement of the monitoring and control of transhipment, clarification for requirements of research vessels and strengthening the rules for timing of authorisation to land. In addition, Cooperating Non-Contracting Party (CNCP) status was renewed for 2023 for Canada, the Bahamas, and Panama.
Measures currently in place at NEAFC can be viewed on the NEAFC website.
The post Outcome of the 2022 annual meeting of the North-East Atlantic Fisheries Commission appeared first on Marine Scotland.
The Scottish Government, Department for Environment Food & Rural Affairs, Natural Resources Wales and the Ocean Conservation Trust have published the Survey on Ocean Literacy, commissioned as part of the 'Understanding Ocean Literacy and Ocean Climate-related Behaviour Change in the UK' project, to better understand public awareness and attitudes towards the marine and coastal environment.
The headline report for Scotland shows nearly eight in 10 (79%) are willing to make lifestyle changes and take individual action to protect the marine environment. The main reasons given for these changes was those of either concern about the climate (67%) or a wish to be 'greener' (63%). However, more than half of respondents have never heard of key terms describing the state of our ocean, how we impact it and how it impacts us, such as 'blue carbon' and 'natural capital'.
Helping Scotland become an 'ocean literate and aware nation' is a crucial commitment in our Blue Economy Vision to achieve the behaviour change needed to address challenges facing our coast and seas, and sustainably manage ocean resources.
Minister for Environment and Land Reform, Mairi McAllan, said:
"Strengthening our data on public understanding of our ocean is a key mechanism for improving knowledge on the benefits we receive from the marine environment and supports subsequent transformation of behaviours to enhance sustainability.
"The survey shows respondents in Scotland value the marine environment and 85% feel it is important to protect it, so there is a real opportunity to harness our collective appetite for tackling the challenges facing our coasts and seas such as climate change, pollution and biodiversity loss.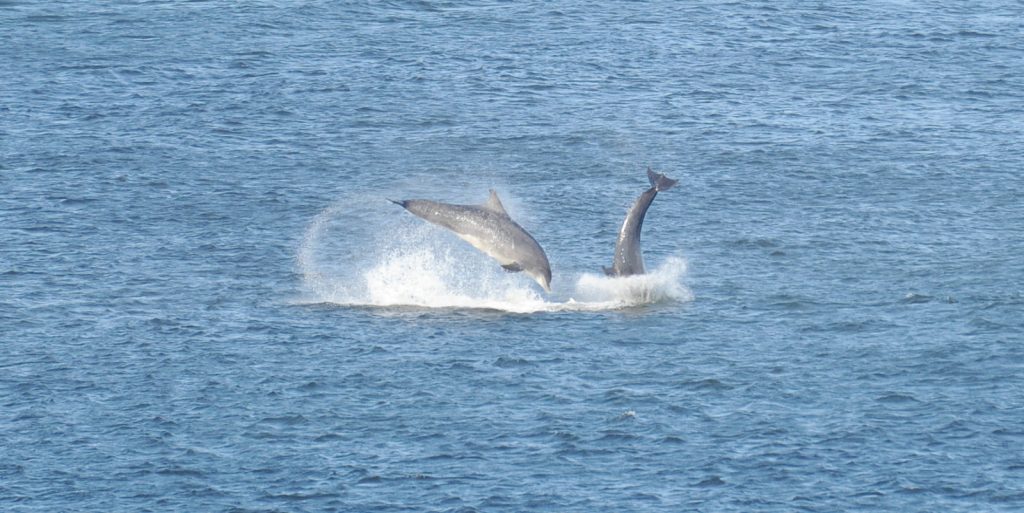 "Our refreshed Marine Litter Strategy sets out clear steps businesses, government and members of the public can take to tackle marine litter and plastic pollution, which threatens the realisation of a shared vision for clean, healthy, safe, productive and biologically diverse marine and coastal environments, which meet the long term needs of nature and people."
Strong connection to the ocean
As previously noted in our Blue Economy Vision document, changes already detected in Scotland include ocean warming, oxygen reduction, sea level rise and ocean acidification and with 51% of respondents stating their overriding emotional response to the marine environment is that of 'concern', it's clear that the people of Scotland feel a strong connection to the ocean. Mental and physical health were given as the top reasons for visiting the marine environment and a quarter of respondents said they felt 'calm' or 'relaxed' while there.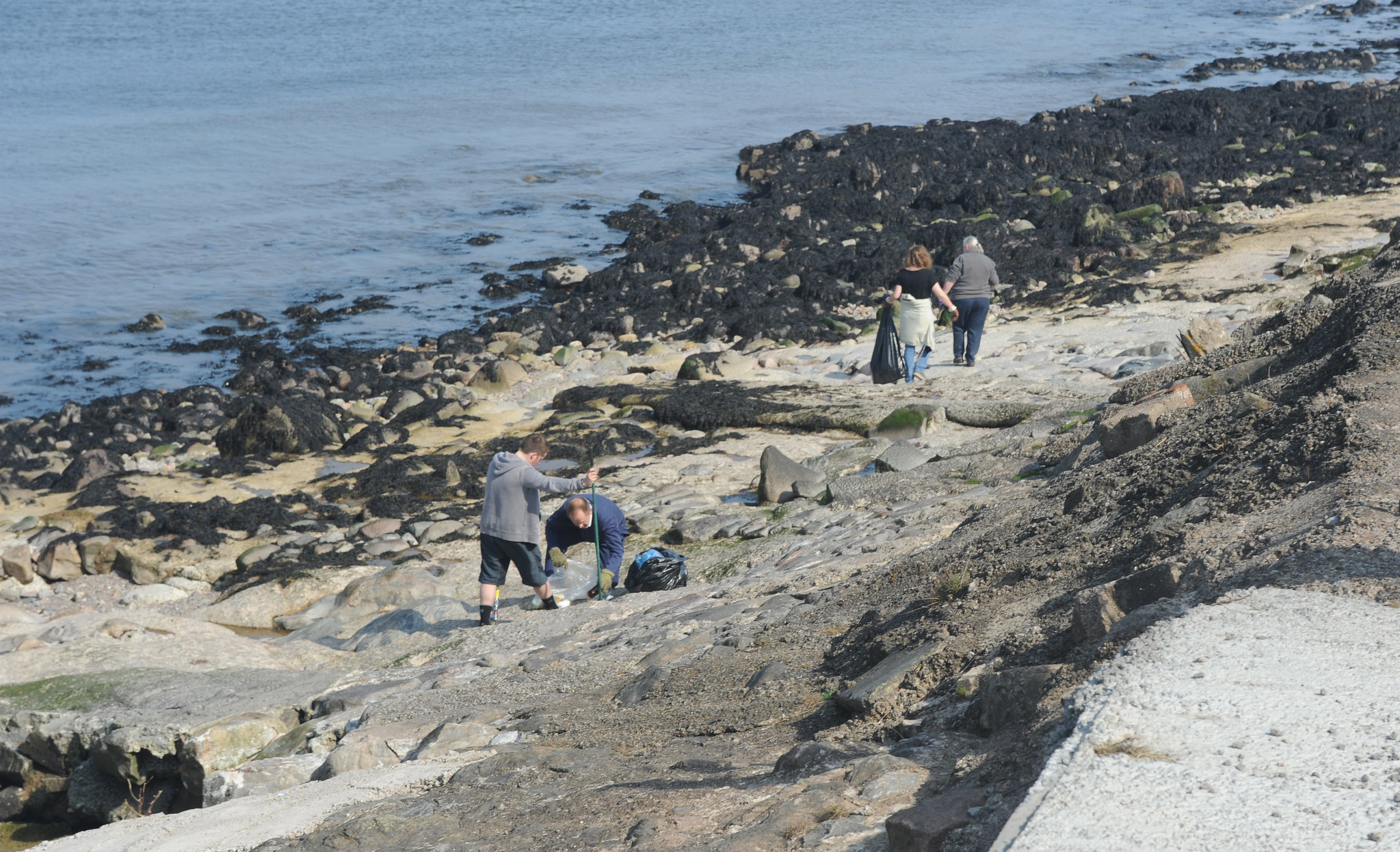 The survey reveals positive environmental behaviour from people in Scotland through individual actions, with the top three being recycling, reducing use of single-use-plastic and reusing plastic.
Other pro-environmental behaviours included switching off lights, heating and appliances to save energy, reducing water usage, and walking, cycling or using public transport instead of driving short distances.  Individuals' decisions about purchasing seafood were influenced by whether or not the fish was endangered or over fished, if the product was environmentally friendly and if it was locally caught.
For more information or ideas on reusing and recycling please check out Zero Waste Scotland's handy 'How to Waste Less' guides. They also have useful information on their website, including:
Further information:
this online survey builds on earlier research undertaken in 2021 in England and Wales, and provides contextual information needed to understand behaviour change related to climate change and the attainment of Good Environmental Status (GES) in the UK marine environment
the overall response rate in Scotland to the survey on ocean literacy was 3,055
The post COP27 blog series: Scotland keen to take actions to protect marine environment appeared first on Marine Scotland.
Atlantic salmon are iconic migratory fish that can migrate thousands of miles during their lifetime, travelling as far as the Faroe Islands, Norwegian sea, and even West Greenland. They start their lives in streams and rivers, migrate to the high seas to grow and return home to spawn. Scotland remains a stronghold for the species, accounting for around 75% and 30% of UK and European wild salmon production respectively.
The Scottish Wild Salmon Strategy aims to reverse the decline of wild salmon by tackling the many pressures the species faces at sea, on the coast and in rivers, including changing river temperatures due to climate change.
Salmon require free access to cold clean water to thrive. Young salmon perform best where river temperatures are in their low teens.  Temperatures above 23°C cause behavioural changes and stress that can stop feeding and reduce growth or cause individuals to abandon territories in search of cool water refuges. Salmon cannot survive where temperatures rise much above 30°C.
During the unusually hot and dry summer of 2018 around 70% of Scotland's rivers experienced temperatures that exceeded 23°C. UK MET Office climate change projections indicate that extreme summers like 2018 will become increasingly common and could occur every other year by 2050.
Nature-based solutions
Trees can reduce river temperatures by reducing the amount of sunlight reaching the water surface, much like natural parasols. By increasing the amount of woodland next to rivers it is possible to reduce some of the effects of climate change on river temperature. This action can also benefit water quality and natural flood management and has the potential to tackle the twin crises of climate change and biodiversity loss, during what the UN has declared the Decade on Ecosystem Restoration 2021-30.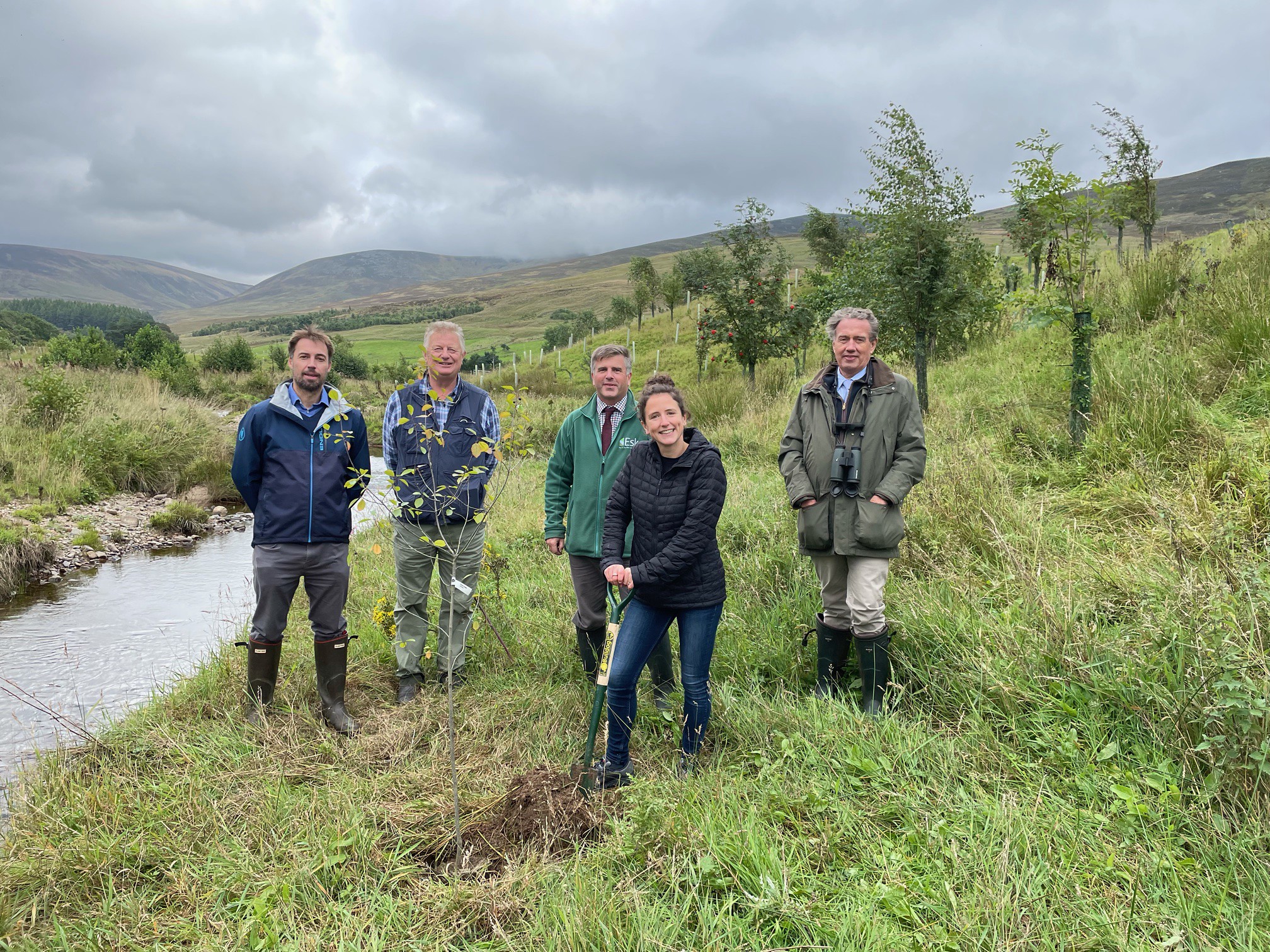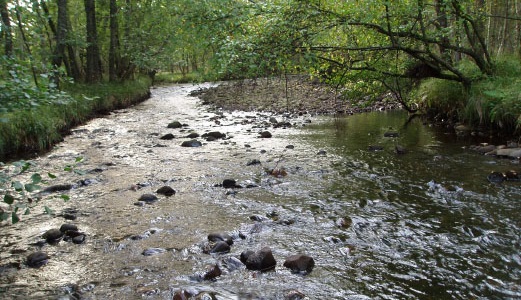 Scotland has around 108,000 km of rivers, but less than 35% are thought to be protected by any meaningful tree cover so there is major potential to increase riparian woodland. However, it takes time to plan restoration of woodland, to produce suitable young trees and for those trees to grow large enough to provide shade. Furthermore, the benefits offered by trees vary between rivers depending on their shape, size, direction of travel and flow. It is therefore important that management action is prioritised to areas where it can have greatest benefits.
The Scotland River Temperature Monitoring Network (SRTMN) was established in 2013 as collaboration between Marine Scotland, local fisheries managers and the University of Birmingham. It consists of around 220 river temperature recorders and was carefully designed to provide reliable data to understand, predict and assess changing river temperatures.
Data collected from the network is used to build statistical models which can be used to map where river temperatures are hottest, will change most under climate change. When combined with a second set of models that predict where trees can reduce temperatures most, it is possible to produce an online map to prioritise where trees should be planted.
Scotland's Forestry Strategy Implementation Plan (2022-2025) recognises the wide-ranging benefits of riparian trees and contains a commitment to develop and implement an integrated approach to riparian management to improve the climate resilience of rivers, water quality, river morphology, and the availability of habitat networks.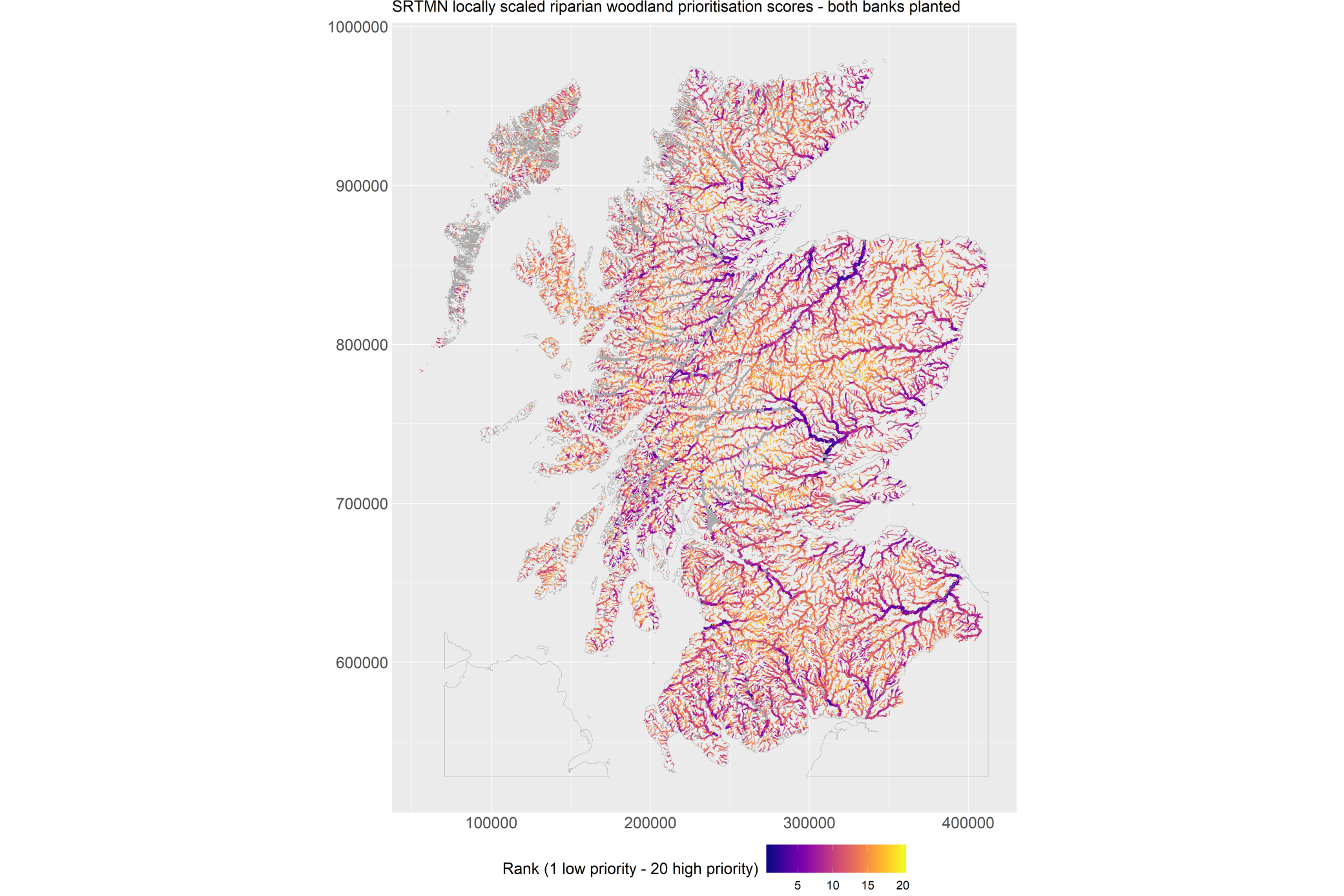 Further information:
The post COP27 blog series: targeted tree planting provides a nature-based solution appeared first on Marine Scotland.
Human activities are causing unprecedented rates of change to our climate, and the impacts of these changes are already apparent in Scottish waters. In the context of the global Climate Emergency, Scotland is committed by law to reduce the country's greenhouse gas emissions to net zero by 2045.  
Wild capture fisheries are an important component of Scotland's marine economy. The fishing industry plays an important part role, alongside all sectors of our society, in reducing emissions and helping to create a low carbon economy with clean, green jobs. 
During last year's COP26 climate change summit in Glasgow, we surveyed the wild capture fishing sector to gauge their preparedness on the impacts of climate change to the Scottish fishing sector.   In total, 66 respondents participated, from a range of backgrounds with fishing industry representatives making up the majority of the responses (59.1%).  
The results show strong engagement and recognition of the topic of climate change across the Scottish fishing industry. This included issues relating to the emissions of greenhouse gases from the industry's activities and also the need to adapt to the impacts of climate change.
We have analysed the survey responses and a number of key themes emerged: 
innovation – through changes in fuel, propulsion and gears – was seen as the clearest of mechanisms to reducing greenhouse gas emissions from the sector, although there was a strong view that costs and access to innovation could be major barriers
shared responsibility to deliver climate action was recognised to be a key component of success, and needs to involve industry, government and research communities to support the sector and strengthen its resilience to climate change. There were also suggestions that others need to take on collective responsibility for action across the supply chain (for example wider distribution across public sector, industry, consumers, and retail), processors, maritime industries (propulsion, engines, technology), catering companies, local authorities and accreditation schemes
interaction between bottom-contacting fishing gears and natural carbon stores, as well as the disturbance to natural carbon stores by extraction of fish were  clear "hot topics" for survey respondents. However, there was also general recognition that there was a significant knowledge gap on the amount of greenhouse gas emissions due to interaction with carbon stored in sediments and habitats 
adaptation was also recognised heavily in responses with nearly half of respondents noting they were already seeing changes in conditions due to climate change. These changes include stormier weather, migration of species, growth rate of species, seasonality of species, algal blooms, and lice in salmon farms 
The survey has been extremely helpful in identifying key evidence gaps to better understand the wild capture fishing sector's needs and will help to establish a clear pathway for action to deliver change in partnership with the sector. The results of this survey will look to inform the climate change action within Scotland's Fisheries Management Strategy and the development of Scotland's marine climate change programme.  
The post Fisheries and Climate Change: opinions from key stakeholders in Scotland's wild capture fishing sector appeared first on Marine Scotland.
With thanks to Richard Lilley, Chief Development Officer and co-founder of Project Seagrass, for this guest blog reflecting on the ever-growing interest in seagrass ecosystems in Scotland.  
Once considered the ugly duckling of marine conservation, it feels like the interest in seagrass ecosystems is currently at an all-time high, with seagrass meadows being recognised to be of global significance both to our climate and food security. In a recent scientific paper Project Seagrass examined the major ecological role that seagrasses play and how rethinking their conservation is critical to understanding their part in fighting the twin crises of climate change and biodiversity loss.
Ensuring the global recovery of healthy seagrass ecosystems will be a significant action to mitigate two of humankind's greatest challenges: feeding and supporting the needs of more than 7 billion people and achieving some level of climate stability. In Scotland, we can be proud that a suite of work is already underway across our institutions to drive forward the science in this space, and to meaningfully contribute to the UN Decade of Ocean Science for Sustainable Development's call to action – 'The Science we need for the Ocean we want."
As an example of this work, the University of St Andrews is leading on a transformative new programme, endorsed by the United Nations Educational, Scientific and Cultural Organization (UNESCO), to address the effects of climate change on the ocean. The Global Ocean Decade Programme for Blue Carbon (GO-BC) will focus on the role of blue carbon ecosystems across estuarine, coastal and open ocean environments for better ocean sustainability.
Then there is the recent scientific paper led by the University of Edinburgh which has provided a regional and international framework for evaluating seagrass management and conservation.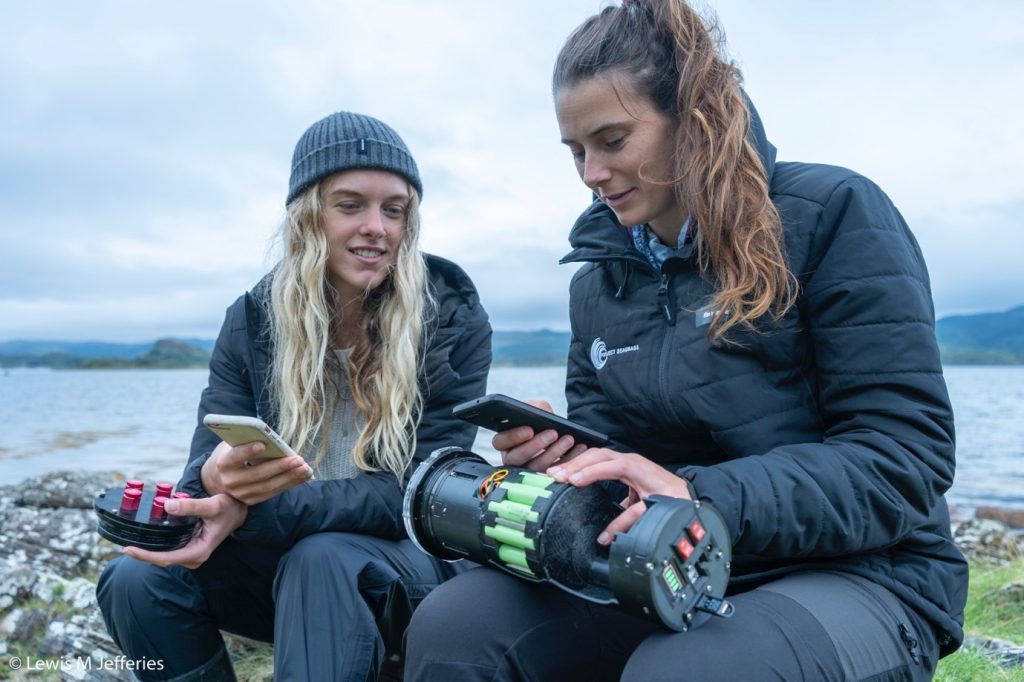 There is an innovative new PhD being undertaken at the University of Aberdeen which is seeking to use eDNA metabarcoding, where samples are taken from the environment to assess the biodiversity of seagrass meadows across the UK, and Scottish Association for Marine Science (SAMS) has been providing exemplary scientific support to the community group Seawilding for over a year.
It was in part thanks to SAMS support that the CROMACH community was able to undertake Scotland's, indeed the UKs first community-led seagrass restoration project – The Seawilding Project that was launched in 2021, at the very start of the UN Decade on Ecosystem Restoration.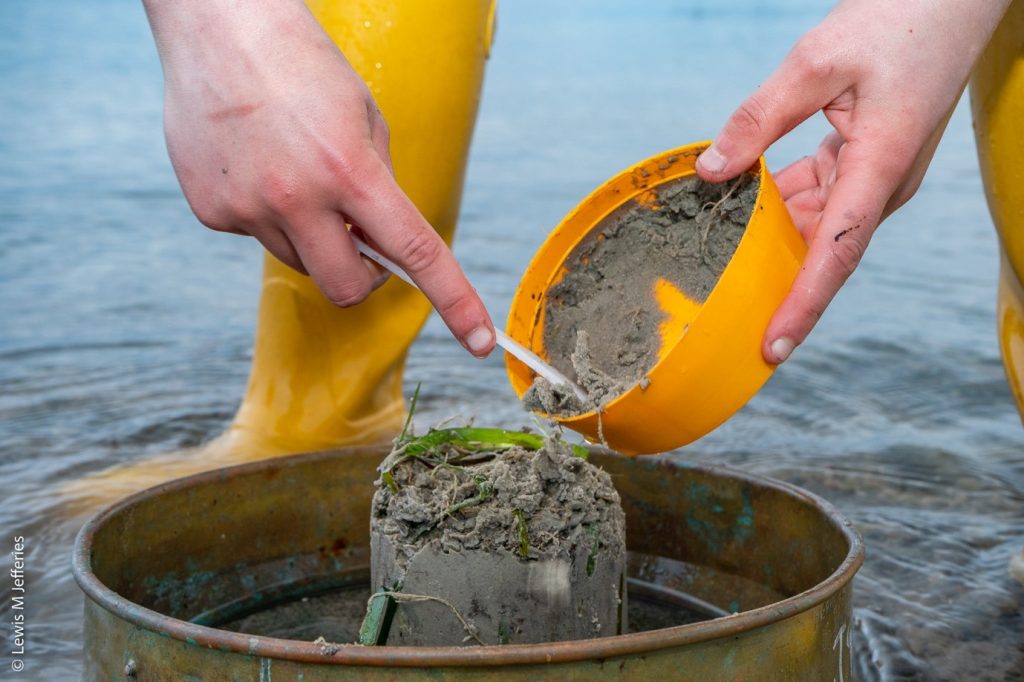 Project Seagrass has been working closely with staff and students from Heriot-Watt University, based both in Edinburgh and at the Heriot-Watt International Centre for Island Technology (ICIT) in Orkney. In Edinburgh, the project Restoration Forth, which was announced during COP26 in Glasgow last year, aims to support communities to restore four hectares of seagrass in the Firth of Forth, and in Orkney, staff and students at ICIT have been working with us and with the local community to better map and monitor the biodiversity present in Orkney's seagrass meadows.
We must acknowledge we still have a lot of work to do, but we are working with our neighbours across the UK on the journey towards building a more scientifically robust evidence base for seagrass ecosystems in the UK.
Further information:
The post COP27 blog series: celebrating Scottish seagrass science appeared first on Marine Scotland.
Scotland is well known for our diverse flora and fauna, both on land and in the sea. Some of the most iconic species seen around our coasts are seals. Scotland is home to a population of approximately 121,000 grey seals and 27,000 harbour (common) seals.
Haul out sites are where seals come out of the water to rest, moult, breed, and to have pups. Seals that are hauled out may be particularly sensitive to approach by humans whether from the land, sea or air and therefore caution is required in such circumstances.
Section 117 of the Marine (Scotland) Act 2010 provides Scottish Ministers with the power to designate seal haul out sites. Following work between Marine Scotland and the Sea Mammal Research Unit (SMRU) at the University of St Andrews a number of sites were identified. A map of all 195 locations can be found here.
Under the Marine (Scotland) Act 2010 it is an offence to intentionally, or recklessly harass a seal at a designated haul out site. Marine Scotland has produced guidance which includes examples of actions that might constitute harassment and information on behaving responsibly around seal haul outs.
Karen Hall, NatureScot Marine Ecology Advisor comments:
"We all love to watch wildlife, but we also need to protect it. We're asking people to stay well clear of the seal haul out sites. At this time of year, harbour seals are just finishing their moult and grey seals will shortly begin pupping, so it's a sensitive time for both species. Watching from a distance minimises disturbance and can give great views of natural behaviour."
Seal behaviour
Seals rest on land to conserve energy, or for females to nurse their young. This is also time when the seals can regulate their temperature while they moult, either due to pups growing in their adult fur, or the annual moult of adults. Regulating temperature in water and swimming all expends energy. When forced to enter the water to avoid a perceived threat, seals are stressed and use additional energy. It is also a danger to new pups that may be injured or killed by adults in large groups that rush into the water.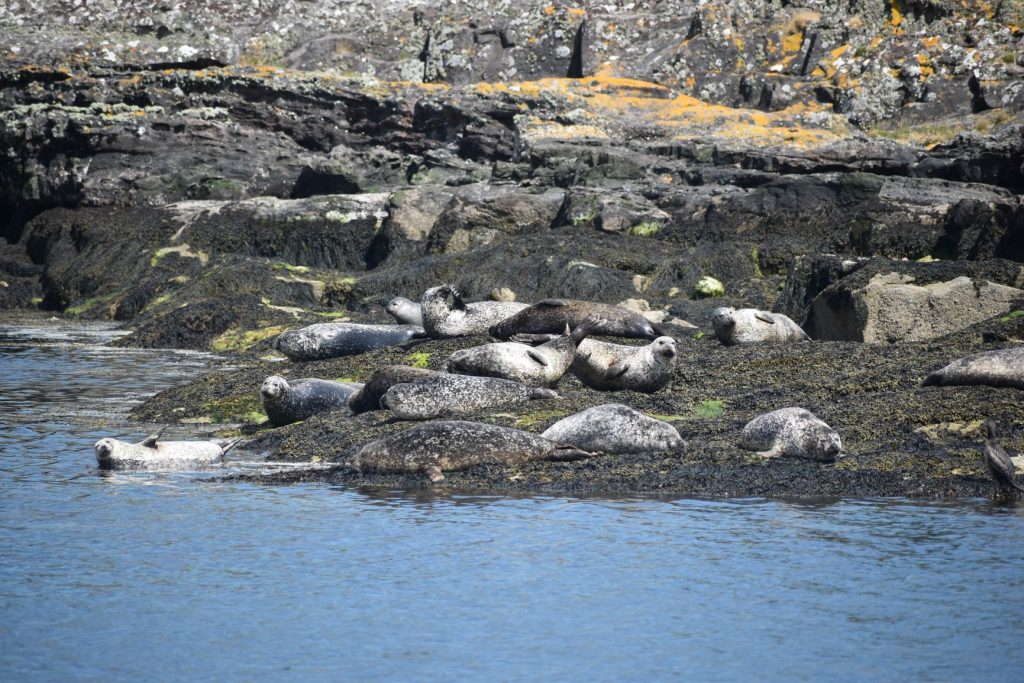 There are some body language cues that can let you know if you are at risk of disturbing seals. They have a three-stage response to perceived threats:
heads-up – the seals raise their heads and watch your location and approach. If you see this behaviour, you should back away and/or change your method and speed of approach.
movement – the seals will start to shift around and appear agitated. If they were laying on their sides they may move to their stomachs to allow them to retreat. If you notice this behaviour you need to back off from the seals so you do not cause the third stage of the response.
stampede – the seals will quickly retreat from land to the water to escape. This puts the seals at risk of injury as well as any pups that are amongst them.
The Scottish Marine Wildlife Watching Code (SMWWC) provides recommendations and advice on responsible wildlife watching. Some helpful tips include:
look up the site you intend visiting for any local wildlife management information and follow their guidance
be aware of the local pupping seasons – avoid visiting breeding sites during these periods
keep your distance and keep dogs away as they can cause a stampede response
do not try to touch or feed seals, they can move surprisingly fast and as cute as they may appear they are predators and are known to bite
never separate pups from mothers as this leads to stress for both and risks abandonment by the mother
leave lone pups alone – the mother may only be foraging for food
signs that a pup may have been abandoned can be found on the British Divers Marine Life Rescue (BDMLR) website
don't crowd or encircle seals and do not stand between them and an escape route to the water
keep the noise down and avoid sudden movements
The world is going through so much right now and mental health is so important. Going for a walk on the beach gives you that dose of fresh air and daily exercise. Remember to do so safely for the animals that know those beaches as safe places.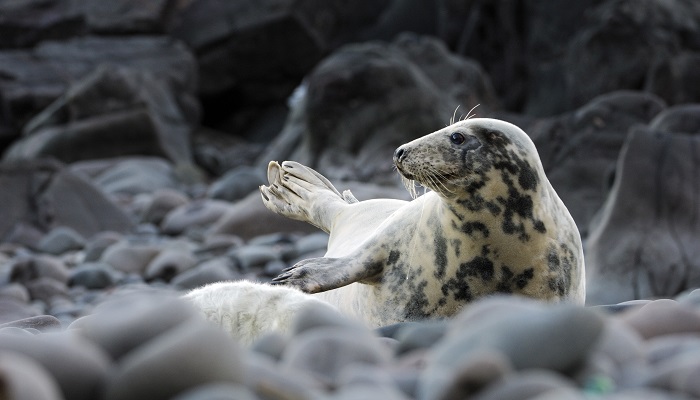 Frequently asked questions What is a designated seal haul out site?
A designated haul out site is any place, which Scottish Ministers designate as such by Order, after consulting with UK Research and Innovation (UKRI). These are identified as areas of consistent high density (hotspots) for harbour and grey seals.
What are the 195 sites designated for?
Of a total of 149 haul out sites:
62 are used mainly by harbour seals
20 are used mainly by grey seals
67 are shared by both these species
Additional sites are grey seal breeding colonies, used by this species specifically during their pupping season. All of these sites provide protection all year round.
Are there any times of year that are particularly sensitive?
Harbour seals usually give birth in early summer (June – July) and spend time ashore in August for their annual moult.
Grey seals give birth in the autumn (September – December) and stay on land for several weeks. Adults and pups leave in the spring once they have finished their moult and the pups have been weaned.
What constitutes harassment?
Details on intentional and reckless harassment can be found in the Marine Scotland document Guidance on the offence of harassment at seal haul out sites.
What should I do if a group of seals reacts to me watching them?
This is an early sign that the seals could be scared from their resting place. If you notice either steps one or two detailed above in the seal behaviour section, you should back away and review your approach.
What should I do if I see a seal that doesn't look healthy?
You can contact Scottish Society for Prevention of Cruelty to Animals (Scottish SPCA) or BDMLR if you are concerned for the welfare of a seal.
What should I do if I suspect someone of committing an offence by harassing seals?
If you are concerned that you have seen someone commit a wildlife offence please contact Marine Scotland Compliance on 0131 244 2286 or via our website.  Alternatively you can contact Police Scotland on 101 or using their website.
What about other wildlife?
NatureScot's guide to best practice for watching marine wildlife provides advice on wildlife watching on land and at sea.
What do I do if I find a dead seal?
If you come across a seal carcass, you should contact the Scottish Marine Animal Stranding Scheme (SMASS) via phone/text 07979 245893 or email reports@strandings.org
When you report a dead stranding, please try to provide the following information:
date found
location (grid reference if possible)
photographs of the carcase
species or description (see species guide)
overall length (estimation)
condition of the animal
your contact details
Further information
Main picture: harbour seal and pup. Picture provided by Jack Lucas/Crown copyright.
The post Responsible wildlife watching around seals appeared first on Marine Scotland.
An annual monitoring trip of Scottish waters took place recently with our science colleagues collaborating with the Joint Nature Conservation Committee (JNCC) on our Marine Research Vessel (MRV) Scotia. This time focussing on the West Shetland Shelf Marine Protected Area (MPA).
The West Shetland Shelf area was designated in 2014 by Scottish Ministers to protect and support the diverse range of wildlife living in the sand and gravel habitats there including: marine worms, marine molluscs and colourful sponges. At 4,083 km2 it is approximately the same size as the Cairngorms National Park and ranges between 70 – 150 m in depth.
Monitoring trips like this allow us to assess the state of our MPAs giving us information about the number and type of species present, as well as their range and distribution. This helps us better understand changes in the marine environment over time to inform future management measures.
How we monitor the seabed
Custom built in our Marine Laboratory the drop frame structure contains an underwater camera system and a number of other subsea gadgets (Figure 2) to provide measurements along each survey area of the water such as: salinity (saltiness), depth, temperature and positioning data.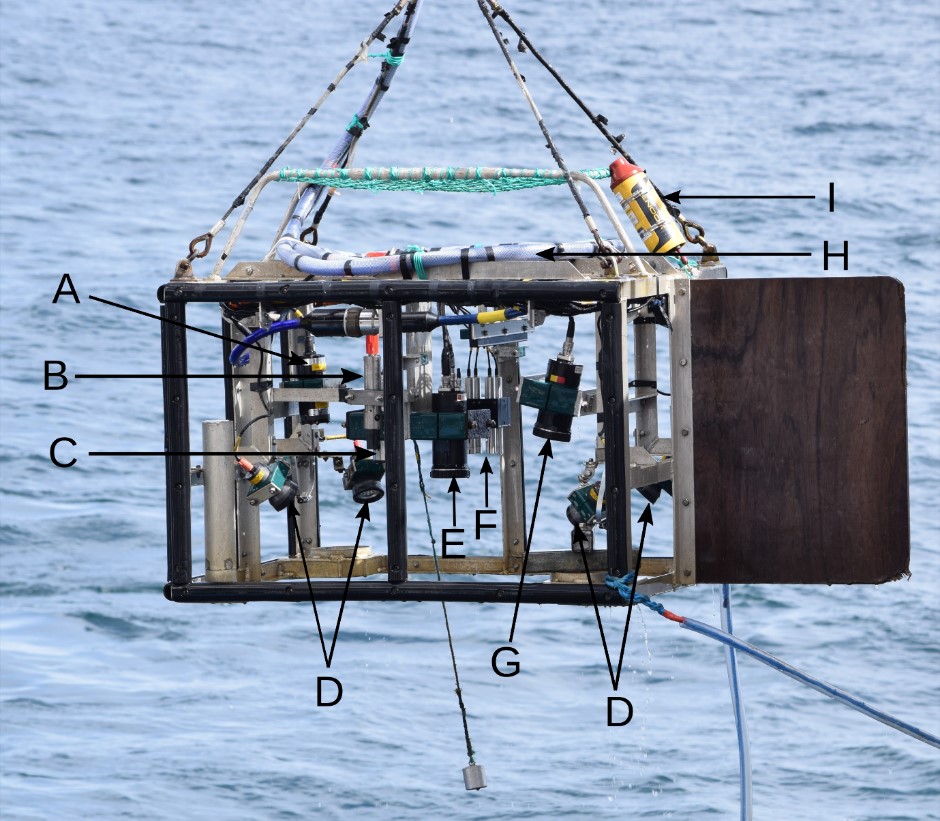 The altimeter measures the distance of the drop frame above the seabed, allowing for environmental factors to be cross-referenced with corresponding imagery. These measurements are transmitted back up the umbilical cable and recorded in real time.
An ultra-short baseline (USBL) transponder communicates with a receiver on the ship's keel (underside) to provide high-accuracy in-water positioning data so we know where each image has been taken on the seabed.
The environmental and positional data are then time-matched with each other and the imagery data to provide comprehensive metadata for each image, so we know the environmental conditions at the position where each seabed photograph was captured (as shown in Figure 3).

Informed decision making
The data from this and other surveys helps the Scottish Government report to parliament on our progress towards the development of an MPA network. This includes an assessment of the extent to which MPAs are achieving their conservation objectives.
Moreover, we are committed to ensuring the marine environment is: clean, healthy, safe, productive and diverse, and managed to meet the long term needs of nature and people under the Bute House Agreement.
Further information
The post Joint monitoring of Scottish Marine Protected Areas appeared first on Marine Scotland.